A different class of LCV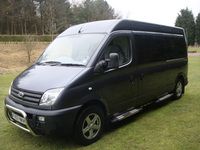 LDV Maxus goes under the hammer at British Car Auctions – perfect for stag and hen parties or weddings.

April sees the chance to own an exclusive LDV Maxus courtesy vehicle when it's offered as part of the commercial sale at British Car Auctions (BCA), Blackbushe, near Camberley, Surrey on Thursday 14th April.
Duncan Ward, BCA Remarketing General Manager, Commercial Vehicles, says, "One of the vehicles of note at this month's special sale is the LDV Maxus, which offers a bit of star quality. Only one of this spec was ever made and the vehicle includes two LCD TV screens, DVD players, chrome trims and wood effect dash board, as well as five stow away tables. Custom built in Turkey for the 2008 NEC Commercial Show, this vehicle is ideal for businesses hiring vehicles for stag and hen weekends and weddings."
Registered on 24 October 2007, the Storm Grey vehicle only has 7,381 miles on the clock and includes all the mod cons expected on a celebrity tour bus. The chrome front nudge bar, side steps and alloys give it premium styling, whilst the interior offers the ultimate in entertainment, including CD/DVD player, large screens, tables, heated leather seats and a fridge.
"The LDV Maxus on sale this April is more than just your average LDV, making it the perfect status vehicle for a night out or special events. We expect to see a lot of interest from small and medium business owners, as well as private owners looking for a good deal on quality LCVs.
"Used LCVs also have a significantly longer 'business life' than cars, two or three more businesses using them, whereas cars typically have just one business user before being sold to a private motorist. And the high spec LDV Maxus offers something out of the ordinary for businesses looking for a unique vehicle."
The Sale takes place on Thursday 14 April, at BCA Blackbushe. Dealers will also be able to bid online for vehicles at the sale.