Vehicle rental company 'Maxus'mises its fleet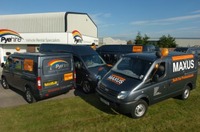 A Morecambe rental company has strengthened its customer offering by introducing the new MAXUS Van Rental programme.
PyeHire, established in 1960, has successfully grown to offer an extensive range of vehicles including cars, minibuses, commercial vehicles and specialised self drive derivatives.
The introduction of MAXUS Van Rental Programme will help to enhance PyeHire's offer to customers. The PyeHire's MAXUS fleet will include long and short wheel base vans, minibuses, tippers, specialist chilled vans and the brand new extended frame MAXUS Luton. Plans to unveil the MAXUS sport van for hire are expected in 2009.
Steve Turner, PyeHire's manager says the brand new fleet of MAXUS vehicles are highly specified with the latest powerful, economical diesel engines, offering savings on fuel compared to older vehicles. MAXUS also offers class leading payloads across the range reducing the risk of vehicles being overloaded.
He said: "We believe the combination of the MAXUS Van Rental programme and Pye Hire's expertise and service will expand our customer base.
"We aim to constantly provide a high standard of service and strive to maintain the highest specification of vehicles for our customers, ensuring they have the best vehicle for the job. "
Mark Beckley, LDV's dealer business manager added: "LDV has always been strong in the rental market and the expanding range of MAXUS vans, factory built minibuses and dropsides, Lutons are proving to be very successful. The MAXUS Van Rental programme is fully backed by the factory giving customers that extra reassurance."
To accommodate the increased range, PyeHire is relocating its office to the front of its premises on Ovangle Road providing customers with easier access to vehicles. This is at the same location as LDV dealership, Pye Motors in Morecambe. For further information on the various hire packages available call 01524 598 641.
To find your nearest MAXUS Van Rental dealer visit maxusrental.com