LDV employees rise to the challenge of the economic downturn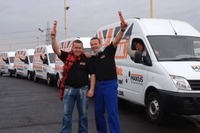 Birmingham van maker, LDV, has come up with a novel way to spread some festive cheer this December as 25 British built MAXUS vans with Union Jack style livery will take to the streets, driven by employees.
The new MAXUS fleet is expected to make a big impression as Guy Jones, marketing and PR director said "This innovative activity has been designed as a positive response to the economic downturn. There has been a fall in demand across the whole industry, so we believe it is of great importance to highlight the value of the MAXUS brand."
"We are confident the MAXUS range of light commercial vehicles offers the perfect solution for this market, with outstanding value for money and low running costs."
The eye-catching MAXUS vehicles have been specially designed with Union Jack style livery as part of a wider marketing programme to promote the latest offers, including the new 58 plate large vans from just £9,995.
The British built MAXUS range, including vans, minibuses, chassis cabs and lutons, offers high levels of standard specification with exceptional payloads. All vehicles are backed by a market leading four year /120,000 miles warranty that also covers the dropside, luton and tipper bodies.
"As we embark on the Christmas shutdown period, our skilled workforce has chosen to quite literally to get behind the wheel of the MAXUS that they build each day with pride. We hope that the Union Jack style MAXUS vans will not only raise awareness of the products, but will also brighten up the streets for the festive season". concluded Guy.