LDV Maxus drives van hire forward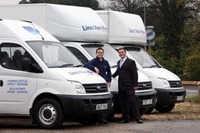 Lincoln-based LDV dealership, Ford and Slater, is celebrating after supplying 20 MAXUS vehicles to a local van hire company in just one year.
Lincs Van Hire had a rental fleet of just eight vehicles a year ago, but as the business has gone from strength to strength in the last twelve months the number has grown to 30.
The company recently took delivery of a dropside tipper and a 15 seat minibus to add to their collection of MAXUS Lutons, SWB's and LWB's.
Director of Lincs Van Hire, Matt Broadbent, said: "We originally chose the MAXUS vehicles as they represented excellent value for money in terms of purchase cost and warranty. We were also impressed with the range available and the willingness of LDV to offer great deals for multiple purchases.
"We chose Ford and Slater as they were the local LDV dealer and have remained with them due to their excellent sales and service staff. We are well supported by Ford and Slater and look forward to ordering many more vehicles from them in the future."
The company, based in Horncastle, expanded their fleet of vehicles after opening a second branch in Sleaford last October. Their customers range from courier companies to local government agencies across the east coast of Lincolnshire.
George Newton, sales executive at Ford and Slater Lincoln, added: "LDV's MAXUS vans are fit-for-purpose. Over the last 12 months the range has expanded even further allowing us to offer our customers a wider selection of vehicles to meet their business needs.
"We are extremely pleased to be able to contribute to the success of Lincs Van Hire."
Ford and Slater Lincoln, based on Sleaford Road, Bracebridge Heath, Lincoln, supplies both new and used LDV vehicles. The dealership also offers servicing, parts and VANfit roadside recovery. For further information call 01522 518170. Ford and Slater has dealerships in Lincoln, Leicester, Norwich and Coventry.