LDV dealer expands local rental business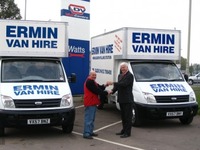 Local LDV dealership, Watts Truck and Van Centre is celebrating after assisting a local van rental company to expand its business.
Ermin Van Hire has seen its business take off following the delivery of six MAXUS chassis cabs, comprising five Lutons and a tipper. The new MAXUS vehicles are enabling Ermine to offer customers and local businesses a greater variety of vehicles to hire.
The privately owned van hire company has been renting vehicles for over 35 years and is run by a small team of three people. The business has gone from strength to strength, which has led to an increase in its fleet of 24 vehicles.
Ivor Hardy, Ermin Van Hire's managing director is already familiar with the MAXUS range as the company's fleet already boasts 14 MAXUS vehicles.
"I have always been very pleased with the performance of the MAXUS vans. The MAXUS Luton has given our business the opportunity to further expand and enter new markets. The five year warranty package and excellent dealer back-up made the decision to choose MAXUS an easy one."
Gary Davies, Watts Van Centre's van sales manager added: "LDV offers a comprehensive range of vehicles. The robust chassis cab frame with the flexible choice of tippers, dropside or Luton really give customers a greater variety. We pride ourselves on delivering excellent customer service and we're pleased to have met Ermine's business needs once again."
Watts Van Centre of Gloucester stocks both new and used LDV MAXUS vehicles, offering service and parts and is a VANfit stockist – the UK's fastest growing parts brand for light commercial vehicles. To contact the dealership call 01452 508700.
For further information on the LDV MAXUS range visit ldv.com.