Europcar first to add LDV Lutons to fleet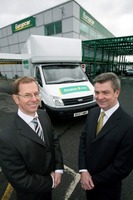 Europe's number one car rental company has taken delivery of 50 LDV MAXUS Lutons in a deal worth over £750,000 at showroom prices.
Europcar is the first national rental company in the UK to purchase the newly launched 3.5 tonne long wheel base vans which all feature tail lifts.
Michael McInerney, Europcar's Fleet Operations Director, said the new vans were a welcome addition to the fleet and would be ideal for customers looking to transport larger goods. "We're delighted to be the first national rental company to take delivery of the new MAXUS Luton.
"We have developed a long and successful working relationship with LDV and receive excellent feedback from our customers regarding performance and comfort of the MAXUS range. This in turn has led us to increase our range of MAXUS vans."
Kevin Childs, LDV's fleet manager added: "Our aim is to provide a commercial vehicle that meets the needs of a diverse market. The launch of our MAXUS Luton means we can now appeal to an even wider audience. We have worked with Europcar since the launch of MAXUS and are pleased to continue this relationship as we expand the range."
Europcar was established in 1949 in Paris and is Europe's number one car rental company. With a UK fleet of over 60,000 cars and vans, Europcar provides services to business and leisure customers through its 250 plus UK rental locations.
For further information on the new MAXUS chassis cab range or the existing MAXUS van range please visit ldv.com. For enquiries about Europcar, visit europcar.co.uk.