HIQ drives away with 25 new LDV Maxus vans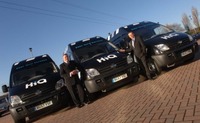 HiQ, the company changing the face of fast-fit on high streets across the UK, is to further meet the needs of its expanding fleet customer base with the purchase of 25 new LDV MAXUS vans.
The new black long wheel base hi-roof vans are all fully liveried and will support HiQ's customers across the UK. The 25 vehicles will soon be joined by further vans as HiQ ramps up its fleet service in 2008.
Tony Lewis, LDV's sales and marketing director handed over the new vehicles to Neil Burrows, HiQ's managing director. Tony said: "HiQ's aspirations to transform the face of fast-fit are fantastic and it's great to be supporting an expanding brand.
"The new vans will ensure that should HiQ's customers require roadside assistance, support is never far away."
Neil Burrows says the new vans are the first of many that the company will be purchasing in the coming months: "LDV and HiQ share many of the same values when it comes to customer care in the UK fleet market – our aim is to provide optimum service at all times.
"The addition of these new vehicles to our UK fleet will ensure we reach our customers when they need us most."
HiQ launched a three year development programme in 2007 aimed at revolutionising the fast-fit industry. Initiatives include:
A unique on line service which allows customers to purchase their tyres and choose when and where they have them fitted within the network
Open and honest pricing based on the principles 'the price we quote is the price you pay' which is consistent from store to store
Enhanced customer service based on a unique national training programme - the HiQ Academy
A brand new look which has been designed to reflect HiQ's new philosophy and set it apart from other fast fit providers