Aero Luton joins Maxus chassis cab range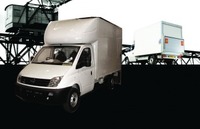 The MAXUS chassis cab range is expanding even further with the addition of a new Aero Luton which is to be seen for the first time at this year's Commercial Vehicle Show.
The new 3.5 tonne Aero Luton delivers an affordable cube van into the market, providing customers with an impressive 15.6 square metre volume. It's also an ideal vehicle for either box or refrigerated derivatives.
Evgeniy Vereshchagin, LDV Group's new chief executive said the Aero Luton provides yet another reason for customers to turn to the MAXUS range to meet their vehicle requirements: "The Aero Luton is a fantastic example of the great vehicle building qualities housed at our Birmingham factory. Our aim is to continue to expand the range to meet the needs of every type of customer."
The new model includes all the driver-like comforts and vehicle features of the current MAXUS range and comes with the following as standard:
120PS engine
Ratcliffe Tailift
ABS with EBD (electronic brakeforce distribution)
Driver's airbag
Power adjustable and heated mirrors
Electronic windows
CD player with MP3 compatibility
Height rise driver's seat
The Aero Luton is the result of a successful collaboration with JC Payne, producers of truck bodies, and the vehicle demonstrates how LDV Group can work with leaders in the field to deliver even more choice for customers.
Every 2008 MAXUS Aero Luton comes with MAXUS ONE, a comprehensive support package which covers all aspect of vehicle ownership including a 120,000 mile/four year warranty and a two year MAXUS Assist European roadside recovery programme as standard.
For further information on the MAXUS chassis cab range visit maxus.com.