LDV opens its doors for children's charity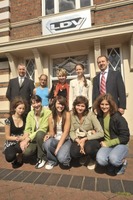 LDV has welcomed a group of youngsters from the Chernobyl Children's Project (UK) for an exclusive factory tour as part of a UK rehabilitation holiday.
The eight young people from Belarus experienced a MAXUS panel van in the making as they were guided along the Washwood Heath van makers' production line.
The factory visit, organised by the Rugby branch of the Chernobyl Children's Project (UK) (CCP), is part of the youngsters' four week recuperative holiday in the UK. Other excursions include local attractions such as West Midlands Safari Park, canoeing at Draycott, archery with a scouts group and a sightseeing trip to London.
The charity was established in 1995 and provides medical supplies and supports humanitarian aid projects for hundreds of Belarus children whose health is still affected from the 1986 Chernobyl nuclear explosion.
There are over 30 charity groups operating throughout England, Scotland and Wales and each year the groups provide recuperative holidays in the UK for about 400 Belarus youngsters.
The health of the young people can be considerably improved following a few weeks of fresh air and uncontaminated food, explained Pat Brown, CCP (UK) Rugby branch coordinator. She said: "We are very grateful to local businesses like LDV who support our excursions. We felt it was beneficial for the group to visit a Russian-owned business that is successfully operating in the UK.
"Everyone was very helpful and the youngsters found the morning quite fascinating."
Barry Harridence, LDV's service support manager added: "We are delighted to support such a worthwhile charity and wish them an enjoyable trip."
The Chernobyl Children's Project (UK) groups continually raise money for the holidays and to fund aid convoys. To make a donate visit chernobyl-children.org.uk.
For further information on the MAXUS range visit maxus.com.