Maxus delivers cool solution for catering supplier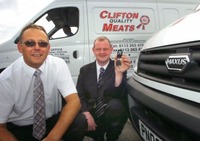 A Morecambe-based LDV dealership has delivered six MAXUS refrigerated panel vans to a wholesale catering butcher in a deal worth £150,000 at showroom price.
The 3.5 tonne refrigerated MAXUS vans were supplied by Pye Motors to Clifton Quality Meats, with a further four vehicles confirmed for later this year.
Clifton Quality Meats, established in 1996, is one of the UK's leading suppliers of high quality meat, poultry, game, cooked meats and fresh fish. The company delivers to all sectors of the leisure industry including hotels, restaurants and pubs plus local government offices and NHS establishments. Employing over 60 trained individuals, the wholesaler operates from two depots in Blackpool and Leeds.
Pye Motors coordinated the full fridge conversions on the long wheel based vehicles as part of Clifton's three year vehicle replacement programme. Stephen Hellewell, Clifton Quality Meats' managing director said: "We are delighted to add the MAXUS vans to our delivery fleet. The vehicles demonstrate excellent value for money and we have put in place a three year replacement programme which will bring significant savings on our vehicle repairs.
"Pye Motors arranged for a vehicle trial which resulted in positive feedback from our drivers who commented on driving performance and vehicle comfort.
"We are very pleased to have met Clifton Quality Meats' requirements," added Tony Sullivan, Pye Motors' sales specialist. "This clearly demonstrates how class-leading cost of ownership and driver comforts can benefit businesses. We look forward to working with Clifton Quality Meats in the future."
Pye Motors Ltd based on Ovangle Road, Morecambe stocks both new and used LDV MAXUS vehicles, offering service and parts and is a VANfit stockist – the UK's fastest growing parts brand for light commercial vehicles. To contact the dealership call 01524 598598.
For further information on the LDV MAXUS range visit maxus.com