Coach tyres from Continental to carry Europe's best footballers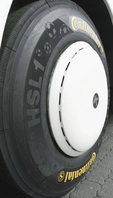 Coaches will once again be a preferred means of transport at UEFA EURO 2008TM. Sixteen team coaches will be fitted with Continental's dedicated HSL1 'Special Edition' tyres, which are quiet, comfortable and ensure the lowest fuel consumption.
The technical implementation of the 'Special Edition' tyre is based on the HSL1 for the steer axle. Small, stylised footballs and the unmistakable yellow Continental logo give the 295/80 R 22.5 HSL1 Special Edition tyre its distinctive look.
The tyre's specially developed tread pattern means a low rolling noise, whilst also ensuring even contact with the road surface. As the only link between the vehicle and the road, the tyre has an extremely important role to play in daily traffic. Just as they did at the 2006 FIFA World CupTM, Continental coach tyres will ensure that at UEFA EURO 2008TM the world's best football players arrive safely and in comfort at their match venues. For fleet operators, the HSL1 tyre from Continental has another benefit - its rolling resistance is particularly low, so it helps save on fuel.
"We had very positive feedback from the drivers of the eight team coaches fitted with Continental tyres for the FIFA Confederations Cup back in 2005" commented Gunnar Duvenhorst, marketing communications manager in Continental's commercial vehicle tyre division. "The result of this positive response is that after having fitted the 32 team coaches with the HSL1 or HSR1 for the 2006 FIFA World CupTM, now all 16 team coaches being used for UEFA EURO 2008TM will also be equipped with them."
In addition, Continental tyres will be used for the VIP coaches at UEFA.
On its website ContiSoccerWorld.com Continental provides extensive information about all aspects of UEFA EURO 2008TM, including detailed portraits of all of the teams and their respective star players, plus interviews and reports. News of Continental's football-related activities can also be found on the website.