Triumph's Daytona 675 scoops Supertest and Masterbike awards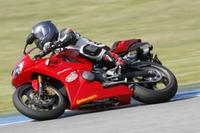 Triumph's ground breaking Daytona 675 continues its award collecting route as it scoops both the Supertest and Masterbike awards for the second year running. This is a true testament to the motorcycle as the 2007 bike remains unchanged since its launch in 2006, yet still it saw off all the competition.
The last week in March saw the Daytona 675 maintain the Supertest crown as King of Supersport bikes. The Supertest competition, held at the Almeria track in Spain, was judged by 15 journalists from publications all around the globe. The competition runs back-to-back tests for sports bikes from all the major motorcycle manufacturers. The Triumph Daytona 675 stormed into the top place in the engine flexibility, throttle response, chassis handling, chassis brakes, equipment and price categories, making it the overall winner for the second year on the run.
Straight from the success at Supertest, the Daytona 675 secured yet another "Best Supersport" title at the Masterbike test in Jerez, Spain. Masterbike is an independent track-test for sports bikes organised by Motociclismo, the best-selling bike magazine in Spain, with a judging panel comprised of 16 international motorcycle magazines. The Masterbike test is considered one of the most important and influential magazine tests due to its impartiality and fairness. The Triumph Daytona 675 continued its reign as the best Supersport bike, beating the second placed Honda CBR600RR, new for 2007, by a significant margin.
Simon Warburton, Product Manager at Triumph Motorcycles Limited, commented: "Winning both Masterbike and Supertest for two years running is a brilliant achievement for Triumph and shows that we are now a force to be reckoned with in the Supersports market. We look forward to continued success for the Daytona 675."
The Triumph Tiger 1050, the most recent addition to the 2007 range, has also started to reap magazine test awards. Motorrad, the most influential magazine in Germany, and probably the world's most objective motorcycle magazine, awarded the Tiger 1050 the top spot in their travel enduro test, which saw the Tiger pitched against the BMW GS, the KTM 990 Adventure, the Suzuki V-Strom 1000 and the Honda Varadero 1000. Beating the GS is a formidable achievement, as the BMW has dominated the category for many years.
The Tiger 1050's success continues across the Atlantic, where it has just won the Best Sport-Standard class in Rider's 2007 Motorcycle of the Year awards programme, while back in the UK, the Tiger 1050 won Motorcycle Sport and Leisure's (MSL) 'Tall-Rounders' test, beating the KTM 950 and the Ducati Multistrada. MSL summed up the Tiger's award-winning performance perfectly when they concluded that the Tiger 1050 is 'pretty damned good at absolutely everything'.