R&G Racing works at speed for new Triumph triple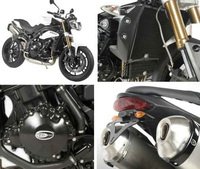 Only days after the bike's launch, R&G Racing has released its full range of protection and styling products for the 2011 Triumph Speed Triple.
With the naked British bike undergoing its first major revision since 2005, R&G, the world leader in motorcycle crash protection, has been quick to react with a thirteen-strong range of products.
With no protection from a fairing on the triple, the award-winning Aero Crash Protectors are available in two separate fitments for a wide spread of security; behind the radiator (£61.99) and below the centre of the frame spars (£67.99). The teardrop-shaped protectors are made from high-density Polyethylene (HDPE), developed to wear and not shatter. R&G also utilises a particular grade of steel bolts to help absorb an impact by bending, rather than snap or twist its mounting point on the bike.
For the exposed 1050cc engine, R&G offers two lines of resistance; hard-wearing Engine Case Covers (£64.99) that bolt on top of the standard cases and Engine Case Sliders (£34.99); made from a similar material to the crash protectors and attach to the bottom of the existing cases without adversely affecting ground clearance. Both products are extremely easy to fit and do not require draining the bike's oil or messing with gaskets. On the right hand side, both items can be fitted in tandem, as one fits on each of the two right hand casings.
Though crashes are rare, stones and debris causing damage to a bike is a common occurrence. To combat this, R&G offers an aluminium Radiator Guard (£59.99) and an Oil Cooler Guard (£39.99) for the expensive cooling systems and a Shocktube (£24.99) that encloses the rear shock; allowing heat and moisture out but nothing else in.
Continuing the defence theme are Fork Protectors (£29.99) and Spindle Sliders (£29.99) that attach through the front and rear axles to protect the suspension, swingarm and braking components. Discrete Exhaust Protectors (£24.99) cover the underseat cans while Bar End Sliders (£24.99) help to protect the levers and tank from making contact with the ground, as they protrude an inch past the standard ends.
The R&G Tail Tidy (£84.99), crafted from aluminium and black powder coated, replaces the standard numberplate hanger and light to create a much sharper appearance at the rear of the bike and the Frame Plugs protect and cover the holes in the frame where the swingarm is mounted.

To view the full range, visit the R&G Racing stand (R505) at Carole Nash Motorcycle Live (November 27 to December 5) at the Birmingham NEC or go to rg-racing.com.