Triumph's new summer T-shirt range available in dealerships now!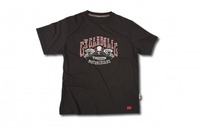 In anticipation of the glorious summer ahead, Triumph Motorcycles is set to release an exciting new range of T-shirts. Inspirations for the designs featured on the new styles take their cues from Triumph's steep heritage through to modern times. From the vintage "Sixty8" lines, influenced by 20th century events, to the new styles that feature Triumph's signature bold designs, these garments are certain to be a hit with riders and non-riders alike.
Much like Triumph's motorcycle range, the collection crosses the divide between old and new, boasting a combination of simple style and confident design. The 'Sixty8' range has already proved to be a hit with the style conscious and the highlight of the new assortment must be the "Mod Crushers Club" T-shirt, which takes its design cues from the infamous 1960s rivalry between Vespa riding Mods and Triumph clad Rockers.
The hugely popular, and now iconic Dylan tee, which featured on the cover of the "Highway 61 Revisited" album, remains an integral part of the collection. Other exciting additions meanwhile, include the "Cycledelic" and the "Land Speed" Tshirts. The former celebrates the British invasion of American culture during the Summer of Love, when Triumph bikes came to represent the general feelings of rebellion and freedom synonymous with the times. The latter is devoted to Johnny Allen's famous World Land Speed Record, set on a 650cc, streamlined Triumph in the Bonneville Salt Flats, Utah, in 1956.
In addition to the vintage garments, further T-shirts offer distinctive motifs and one-liners, while Triumph has also extended its female range. Even the biking fans of tomorrow have been catered for, with two new children's t-shirts. The "Bonnie Bike" and "Kids Bike" tees will have parents everywhere buckling under their children's birthday pleas.
For more information and to locate your nearest dealer, go to triumphmotorcycles.com.