Triumph clothing end of season sale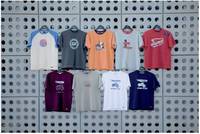 Triumph dealers are to offer fantastic savings of up to 50% on a number of key clothing lines.
For a five-week period beginning on 28th July customers can enjoy great savings on Triumph's most popular clothing items, many of which will make way for exciting new styles later in the year.
Inclusive of performance garments for men and women as well as selected casual lines, this sale is sure to catch the eye of Triumph and non-Triumph riders. For more information on the sale, including a participating dealer list, see triumphmotorcycles.com/uk from mid- July.