Limited edition Triumph art prints available in dealerships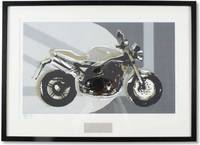 Triumph Motorcycles has created a series of limited edition, handmade prints which will bring the sleek artistic design of the brand's iconic bikes directly to the walls of a lucky few.
Triumph Art Prints have been designed by professional artist, Andreas Williams and are limited to just 500 pieces worldwide. Williams takes his design cues from the pop art movement of the sixties and his creations reflect the Triumph ethos of producing creative, unique products with a nod to the classic style of the not too distant past.
The distinctively modern images capture the detail and precision that goes into the design and manufacture of Triumph Motorcycles and also reflect their power, originality and character. The inaugural prints focus on two of Triumph's most successful bikes of recent years, the Rocket III and the Speed Triple. They have been produced using an environmentally friendly standard of paper, which is acid free and made from 100% cotton. Complete with designer frames and styrene that provides a crystal clear view of the images, the stylish prints look destined to be a hit.
Each print has been numbered and hand signed by the artist and by Triumph's owner, John Bloor and will be accompanied on purchase by a beautifully embossed certificate of authenticity. The designs are completely original and are sure to very quickly become collectors items.
Triumph's Commercial Director, Tue Mantoni commented, "These prints are a true reflection of the sophistication of Triumph motorcycles and their riders and we are delighted to be in a position to offer people the chance to own a piece of genuine Triumph fine art."
Triumph Art Prints are available now at all authorised Triumph dealers (RRP £200).
For more information and to locate your nearest dealer, go to triumphmotorcycles.com.