Triumph launches 2008 Sprint ST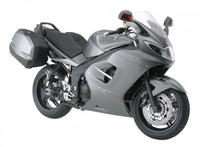 For 2008 Triumph Motorcycles is delighted to announce the release of an updated version of its acclaimed touring champion, the Sprint ST. The bike, which was originally launched in 1999 and last updated in 2005, has been a consistently popular member of Triumph's UK line-up.
A direct response to customer feedback, the changes for 2008 are subtle but serve to enhance the outstanding performance of this superbly versatile motorcycle. The new model features a steel fuel tank, enabling the use of a magnetic tank bag, whilst the footrests have been modified and now employ a more durable rubber for prolonged wear. The headlight performance has also been markedly improved.
Renowned for its superb handling, powerful engine and unrivalled reliability, the Sprint ST has won a host of accolades since its launch and has come to represent the very pinnacle of sports touring refinement. Just last year, it beat off competition from 12 other bikes to win German motorcycle publication, Motorrad's, 50,000km endurance test.
Available from January, the 2008 Triumph Sprint ST costs £7,999 otr. An ABS version is also available at £8,599 otr. Colour options are Pacific Blue, Graphite and Tornado Red.
For those keen to experience this sublime machine for themselves, a free test ride awaits at most Triumph dealers.