Triumph re-creates vintage t-shirt as worn by Steve McQueen!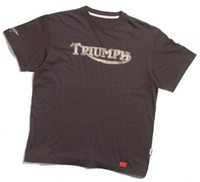 Triumph pays tribute to one of the most charismatic movie stars of all time with the re-creation of the t-shirt worn by Steve McQueen, while racing his Triumph motorcycle.
The first in a series of casual products that have been officially licensed by Steve McQueen's estate, the t-shirt is in an 'as worn by' style, taking its design cues from the vintage style tshirt worn by McQueen.
The garment is made from 100% cotton single jersey and features the vintage Triumph logo print on the front. The inspiration for the design is also established through the 'Steve McQueen Special Edition' slogan on the reverse, whilst the arm features the movie star's signature.
The t-shirt is to be launched on the 24th of March, the anniversary of McQueen's 78th Birthday. It will be available in black and white, in both men's and women's sizes, from all Triumph Motorcycle dealers and www.triumphmotorcycles.com.
The McQueen t-shirt will be joined in April by the new summer t-shirt range, featuring a large number of new styles.