Triumph Motorcycles launch 2008 summer t-shirt range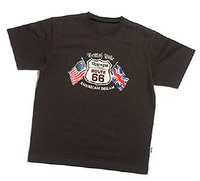 April 2008 will see the launch of Triumph's hotly anticipated summer t-shirt range at all Triumph dealers. The collection includes something for bike enthusiasts and fashionistas alike with a total of 23 different styles for men, women and kids.
Triumph's rich heritage is drawn upon in the Modern Classic Sixty8 range, with designs such as the Ton Up Boys print, which is inspired by the so named rockers who raced from café to café in the 1960's, attempting to reach the coveted 100mph 'ton'.
A British twist has been placed on an American dream by Triumph with the Route 66 t-shirt design, which features the legendary Route 66 signpost graphic flanked by both American and British flags. Other designs in the collection include the Londont-shirt, which is reminiscent of the rock era, depicting a rebellious scene against a Union Jack and London skyline.
The potential bikers of tomorrow are also catered for with the cute Bike Builder kid's t-shirt, which features an air fix scale model print of the popular Daytona 675 Triumph Motorcycle.
Triumph's Commercial Director Tue Mantoni commented, "Triumph is proud to announce the launch of this exciting new t-shirt range. The designs represent an appropriate blend of old and new. We are confident that dealers and customers alike will share in our enthusiasm".
The collection also includes new versions of the current logo and graphical designs for which Triumph is renowned. All styles are 100% single jersey cotton and are sure to appeal to urban sport, modern classic and cruiser riders, as well as the fashion conscious!