Motorbikes and Rock'n'Roll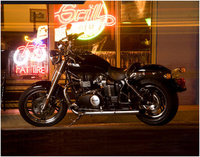 Sony BMG Music Entertainment UK and Triumph Motorcycles Limited have announced a new relationship to coincide with the launch on 20th October 2008 of the new AC/DC Black Ice album.
Triumph Motorcycles will host their own exclusive embedded music player on their website, triumphmotorcycles.com featuring the long awaited new album from Rock giants AC/DC. The embedded player will be available on 20th October, the same day as the physical UK release.
The Sony BMG Music Entertainment UK portfolio includes many of the biggest names in rock'n'roll, ranging from classic rock giants like AC/DC to up-and-coming young bands spanning all genres of rock'n'roll music.
Triumph motorcycles have been associated with rock'n'roll since the 1950's when they became the Rockers' bike of choice. Today Triumph makes a wide range of motorcycles from modern classics and cruisers to cutting-edge sports bikes like the iconic Speed Triple and Daytona 675.
The Sony BMG Music Entertainment UK / Triumph collaboration kicks off with the launch of AC/DC's Black Ice album and marks the start of the two companies working together on promotional activity around albums and tours for new bands on Sony BMG Music Entertainment's labels.
Black Ice is released worldwide on October 20th on Columbia Records and is undoubtedly one of the most eagerly awaited albums of 2008, attracting both critical fanfare and rapid anticipation from AC/DC fans across the globe. Upcoming shows in the Black Ice World Tour start on 28th October in the US and come to the UK in April 2009.