Mazda bites into food supply market with Jiffy Trucks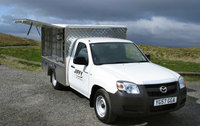 Jiffy Trucks, the UK's leading manufacturer of mobile delivery vehicles for hot and cold food, has chosen the Mazda BT-50 pickup as the platform for its latest conversion.
The Mazda BT-50 4x2 Single Cab pickups, powered by a 2.5?litre 143ps turbocharged common rail diesel engine, are being used by West Yorkshire-based Jiffy Trucks for the production of its all-new Mezze catering truck.
The new vehicle will be officially launched at the Great Yorkshire Sandwich, Snack and Mobile Show being held on May 21-22 at the Elsecar Heritage Centre, Barnsley. A fully operational prototype will be unveiled at the show and the company has already started to build for stock with four vehicles on the production line. The Mazda BT-50-based Mezze replaces the best-selling Salsa in the Jiffy Trucks model line-up.
In place of the pickup body on the BT-50, Jiffy Trucks constructed an insulated box using a stainless steel frame and their trade mark quilted panels. The Mezze features a blown air refrigeration unit and a diesel fired heater to enable hot and cold food to be served.
Sales manager Charles Cooper said: "Strength and carrying weight are essential for our purpose-designed catering vehicles. When we looked at the pickups that were available in the marketplace for suitable conversion the Mazda BT-50 stood out with its excellent driving characteristics, on-road performance and reliability, while the width of the cab was also an important aspect."
The Mezze will cost £24,995 + VAT in standard form and the company hopes that following launch it will go on to become Jiffy Trucks' new best-selling model.
Mr Cooper added: "The Mezze is capable of carrying a lot of stock, which is important to our customers; it is very well-specced and comes with Mazda's excellent record for vehicle reliability. We expect significant demand for the new model."
Privately-owned Jiffy Trucks has been building its distinctive catering vehicles for more than 30 years, selling directly to companies from its factory. Customers range from new starters who need a cost effective way of building a business to deliver hot and cold food, through to well established, catering and bakery organisations looking to expand.
The company has customers with one Jiffy truck ranging through to organisations that operate from numerous production units with over 40 vehicles.
Mazda fleet and remarketing director James Hopkins said: "Jiffy Trucks' decision to use the BT-50 for its latest vehicle takes Mazda into yet another new area of the UK corporate market.
"Demand for prepared hot and cold food in the UK continues to grow and the new vehicle will be seen at locations ranging from industrial estates, commercial parks, schools, airports, HM Forces camps, events, meals on wheels, in fact anywhere with hungry people – the opportunities are almost endless. This means excellent exposure for the Mazda brand."