Could yoga be the answer to fertility problems?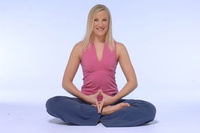 QiYoga, the pioneering new style of yoga that combines the ancient self-healing arts of QiGong (Chi Gung) and Hatha Yoga, heralds the arrival of autumn with a fantastic new long-term '2-4-1' promotion on all its classes including, for the first time ever, on the much-acclaimed QiYoga for Fertility programme, designed specifically for anyone experiencing fertility problems.

From 22nd September, through to the end of January '09, London's premiere yoga school will be offering 'buy-one-get-one-free' QiYoga sessions to all those wanting to benefit from the stellar line-up of programmes that are ran exclusively at QiYoga in London.

As one of the most promising complimentary treatments for infertility seen in recent years, QiYoga for Fertility has helped bring endless joy to the lives of couples that had experienced problems trying to conceive a child and who had been left thinking they had met a dead-end or wanted to try all before undergoing treatment or visiting an ICSI treatment centre.

QiYoga for Fertility prides itself on having a 100 per cent success rate and, through word-of-mouth alone, has started to attract widespread interest from all walks of life. This includes celebrity and overseas clientele, many of whom travel over to the UK especially to be treated at the QiYoga studio.

A truly innovative and unique offering for anyone who may be feeling despondent about the problems they face around their fertility. QiYoga for Fertility is an all-encompassing programme that focuses on the mind, body and spirit as well as on personal fitness.

Carried out on a confidential one-to-one basis, the emphasis for the classes is firmly put on being relaxed and comfortable, yet will ensure you leave feeling invigorated, energised and motivated.

All this is achieved through having clients harness the Qi/Chi (life force energy), whilst getting them to focus on their womb and reproductive system. The combination of exercises helps them to bring positive energy into their body and helps to remove any subconscious psychological barriers that they have to being fertile.

QiYoga for Fertility has gone from strength-to-strength since QiYoga founder and teacher-trainer, 29-year-old Australian Fiona Kaczmarczyk, launched the new initiative last year, turning her 'vision of healing' into what QiYoga for Fertility is today. In a short space of time, it has rapidly become one of the yoga school's biggest specialties.

QiYoga itself a 360-degree yoga brand that encompasses a revolutionary range of exercise classes, yoga techniques and therapies that sit alongside a soon-to-be accredited teacher-training course, which is helping to nurture the next generation of QiYoga teachers in the UK.

The teachings and techniques of QiYoga have become an integral part of the lives of many who have experienced its benefits first hand. Both Hatha Yoga from India and QiGong from China are sciences of self-healing that combine physical postures and breathing techniques with meditation.

As healing is the main aim of both disciplines, visualisations are employed to integrate the mind and the body of its students, helping promote a level of health and well being that, amongst other things, may prevent illness, increase energy levels by detoxifying the body and reduce stress by balancing the central nervous system.

With a growing reputation as the place to learn and teach yoga, QiYoga has earned itself the rightful recognition and support from major companies including the BBC, Virgin Active, Kinetica health clubs and clothing company Running Bare. This year, QiYoga will be guests of honor when they perform at both the Mind Body Spirit Festival and the forthcoming 2008 Yoga Show.

With its roots firmly in the East, yet specially formulated for the lifestyles of the West, QiYoga has classes suited to everyone. At its HQ – a stunning boutique yoga studio in Streatham Hill, south-west London – the golden wood flooring, cream walls and soft lighting over look a lush green cottage garden, making for a tranquil, ideal setting to unwind.

Students feel refreshed and relaxed after the intimate QiYoga classes where the emphasis is put on teachers paying close attention to each student. The studio, although big enough to cater for more people, is purposely capped at just six students, to ensure the atmosphere is always serene. In addition to group classes, QiYoga teachers travel to schools, homes and offices to deliver bespoke classes to the general public.

QiYoga's line-up of '2-4-1' classes for autumn '08/winter '09 includes; QiYoga for Fertility, QiYoga for Pre/Post Natal, QiYoga for Mummy & Baby, QiYoga for Kids, QiYoga for Beginners, QiYoga for Intermediates, Qi Power Yoga, QiYoga for Back Care, QiYoga for Chakra Balancing, DanceYoga, QiYoga for De-Stress, QiYogalates, QiYoga for Partners, QiYoga for Seniors, QiYoga for Special Needs, QiYoga for Therapy as well as QiYoga for Meditation (more details on each of these classes at qiyoga.org.uk).

Terms & conditions - '2-4-1' promotion is for all QiYoga classes booked from 22nd September 2008-31st January 2009. Valid for all patrons who quote "2-4-1 offer." Offer Details: Buy 1 class for you and a friend, get 1 free or buy 2 classes for yourself, get 1 free. Valid for all QiYoga Classes including one-to-one tuition at the QiYoga centre.

For more info visit qiyoga.org.uk.

Studio address: 2 Tarlton Court, Broadlands Avenue, Streatham, SW16 1ND.