FitFarms – For ladies who lunge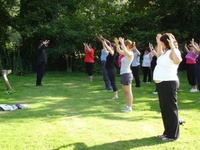 Women are more likely to beat the bulge during intensive, natural and informative weight-loss programmes than military-style boot camps. That's according to FitFarms, an award-winning sports science weight-loss company running retreats exclusively for women.
"FitFarms is not just another boot camp," says Julie Brealy, health manager at FitFarms.co.uk. "We focus on nutrition, physiology, psychology and alternative exercises like Tai Chi."
The average weight loss during the seven-day residential retreat is 8lb and 3oz but the record currently stands at 19lb 7oz.
"Barking out army-style commands only gives short-term results," says Brealy.
"Women only carry out the exercise through fear. But when something is feared you're less likely to continue to do it in future.
"In order to maintain the weight loss, it is vital you listen to and understand your body. For instance, not many people know that stress can lead to excess weight around the waist area."
At FitFarms, a dedicated team of health and nutrition experts run informative workshops throughout the week, meaning people are more likely to maintain their new healthy lifestyles.
"Understanding your eating habits is the first step to shifting excess weight," says Ann Mold, psychotherapist at FitFarms.
"Research has proven that emotions increase food consumption and stress can lead to cravings for fat and sugar.
"Psychotherapy is a vital aspect of FitFarms and identifying these issues can increase your chances of keeping off the weight for good."
The Sunday Times voted FitFarms the UK's number one weight-loss camp. Courses run throughout the year in the Peak District and Exmoor. Private or shared rooms are available.
A typical FitFarms day:
06.00 - Circuit Training
07.30 - Breakfast
08.30 - Hike through National Park
12.30 - Lunch
13.00 - Nutrition Workshop
15.00 - Ultimate Body Fat Burn
16.15 - Speed Ball
17.30 - Dinner
18.45 - Tai Chi or Yoga
20.00 - Abdominal Blast
20.45 - Exercise Workshop or Deep Tissue Massage
For more information, log on to FitFarms.co.uk.