Blackstrap Molasses – A beginners guide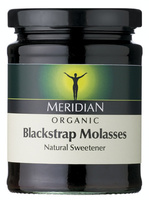 Meridian Foods' Blackstrap Molasses is one of their many healthy products – naturally better for you. But what is blackstrap molasses; is it good for us and how can we eat it? Nutrition expert Patrick Holford and Food and Health consultant Christine Bailey answer some questions to discover the mystery.

What is blackstrap molasses?
Blackstrap molasses is extracted during cane sugar production and it is what's left when white sugar is taken out of sugar cane – so molasses is packed with all the nutrients originally found in sugar cane. The name 'Blackstrap' originates from the black 'strap' or mark that distinguished the casks of molasses from the casks of raw sugar that were shipped as part of the same cargo.

What nutrients does molasses contain?
It contains a wide variety of nutrients but it is best known for its high iron content. One tablespoon of molasses contains 4.5mg of iron, nearly half the Recommended Daily Allowance of 10g. Accordingly molasses is often recommended to pregnant women; people suffering from anaemia and vegetarians or vegans who because they don't eat meat need to ensure they get enough iron from other sources.

What does it taste like?
Molasses has a distinctive dark brown smooth consistency similar to thick treacle with a rich flavour tinged with a liquorice taste.

How do I use molasses?
The simplest way to eat molasses is a tablespoon a day diluted in warm water to drink but is most often used to enhance stews, cakes and marinades. It is also often used in Christmas cakes and fruitcakes instead of sugar (see Christmas cake recipe from Christine).

Dietary Attributes
Meridian Foods Organic Blackstrap Molasses is organic, gluten free, dairy free, yeast free, sugar free, egg free, vegetarian, vegan and wheat free.

How to Use Blackstrap Molasses
Use as a cooking ingredient in home baking, stews or marinades or take as a daily addition to your diet by diluting a spoonful of molasses in water and drinking it.

Where do I find them?
Priced at £0.79 for 350g and £1.65 for 740g Meridian Organic Blackstrap Molasses is available in good health food stores nationwide, selected Tesco stores and Holland & Barrett.