A Hug a Day Keeps the Blues Away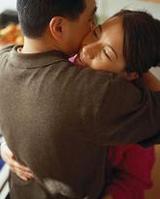 According to research released today by Batchelors Cup a Soup, despite the hustle and bustle of juggling our busy lives, buying Christmas presents and entertaining the family, we still manage to find time for that all important hug!
A poll by Batchelors, the famous 'Hug in a Mug' has revealed that two out of three UK adults have a hug at least once a day. The Scots are the most frequent huggers with 26% of them hugging more than five times a day with Londoners not far behind with 24% enjoying at least five cuddles daily. The Welsh are not so touchy feely however, with 10% of the respondents in Wales sadly never receiving hugs.
Peter Spalton, a leading body language expert comments how there is more to a hug than just giving you a fuzzy feeling inside...
"Hugging is a wonderful tonic. It makes you feel energised and gives you an emotional boost...especially at this busy time of year when many people are feeling the pressure. In fact, the medical evidence is that a hug even makes your body produce more Oxytocin, which is the 'feel good' hormone. Research in America found that one 20-second hug a day makes a big difference between how happy and relaxed we are. Which is why people in a healthy relationship are happier and feel less stressed. "
Giving someone a hug can bring an instant smile to anyone's face. So for a happier you ensure you get your five portions of fruit and one hug per day!
We all hug in different ways and the way we hug means a lot. Batchelors Hug in a Mug has identified five different hugs we all use in everyday life - use this simple guide to see how that special person feels about you!
The Back to Front Hug is the perfect way to give support and affection to someone, even if they are busy carrying out a task like the washing up! Receiving a Back to Front Hug shows that you have someone who is always there for you and is a way of expressing love and affection for that person irrespective of what is received in return.
The Bear Hug is one of the hugs that we all consider to be the strongest. By squeezing your hugging partner gently, you can instantly give them reassurance and affection. But people tend to use Bear Hugs when they are excited or when they want to display strong affection. However remember, the best Bear Hugs require moderate squeezing not suffocating!
The Cheek Hug on the other hand is the complete opposite. We use the Cheek Hug when we need to comfort someone or show affection but this type of hug also allows us to keep our distance at the same time. The Cheek Hug may be used by anyone - elderly people who may not be able to hug tightly, people who are seated, colleagues, acquaintances and even friends and family.
The Side to Side Hug is a common sight we all see almost everyday. Most of us have all strolled down the road locked in a Side to Side Hug with someone. This casual hug allows us to demonstrate our affection for one another without being too intimate. It is also a way of conveniently hugging whilst carrying out other tasks such as walking, sitting down next to each other and standing in a queue for example.
The Heart Centred Hug is one we all enjoy. A slow, intimate and well-needed Heart Hug can lift anyone's spirits and is the perfect way to show close family, friends and partners how much you care!