Eco-Friendly Valentines Day Gifts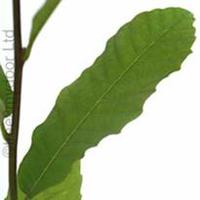 For a longer-lasting, eco-friendly alternative gift to a bunch of flowers this Valentines Day send a tree sapling from award-winning ecological gift company, Tree2mydoor. Their sustainable tokens of love are not only good for the environment, but they can last hundreds of years.
This is a real symbol of your lasting love and commitment to your nearest and dearest (rather than a bunch of flowers which dies within a week!)
Tree2mydoor has five tree species in their Lover's Tree Range. According to ancient lore unearthed by Tree2mydoor each tree has its own unique properties and they have been used for thousands of years in Britain as symbols of love and dedication.
The top three Valentines Trees are:
- Crab Apple Tree Gift : The Tree of Love, perfect valentines gift for your partner. The Crab Apple is a small tree and has been used for thousands of years as a token of love before we had budget airlines.
- Wild Cherry Tree Gift : A blooming lovely tree, perfect Valentines Gift
for your partner. A Wild Cherry tree is small with a striking pink bloom during Spring months.
- Oak Tree Gift : The Father of the Woods, perfect Valentines Gift
for the man in your life, particularly if he is a dad! Oak trees grow into large trees, so pick a good spot in a garden or a safe place in the countryside!
The big seller for Valentines Day is the Crab Apple Tree or The Tree of Love as the Celts used to know it by. One Tree of Love Gift will set you back £24.95 plus P&P.
If you dont have so much room, you can order some Love in a Bag, this is a lovely gift that contains a mix of native corn poppy and corn cockle seed packaged up in a little drawstring jute bag.
Tree2mydoor's service includes a free greetings card that you can personalise at time of order, each tree gift is packed up individually into really unique jute and cardboard packaging. Your order can be sent by courier directly to your Valentine on Valentines Day. Remember to send it to their office to make sure it gets there in time!
Tree2mydoor is holding a 2007 Valentines Day Poem Competition. They want to attract hopeful romantics to create their own very special Valentines Day poem to be published on the website to win free Valentines Day Gift or £100 worth of Tree2mydoor gift vouchers. Find out about the Valentines Poetry Competition now.
Each tree sapling costs £24.95, for more information and to order please visit the comprehensive website: tree2mydoor.com.