A new addition to the fruit bowl for October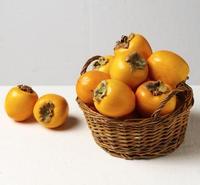 October sees the start of the Spanish Persimmon season, the shiny, firm, tomato-shaped fruit with a sweet apricot taste. Morrisons stocks Persimmon fruit when in season, from October until early December. Delicious in oriental cooking using pork and lamb, it is also perfect for salads, cakes, desserts, and can even be made into jam.
However the fruit, which varies in colour from light yellow to dark orange/red, is best eaten fresh, and tastes similar to a peach or mango. Slice the top off and scoop out the flesh, or simply wash it and eat it like an apple.
Persimmon fruit, grown in the sunny climates of Spain, derives from the Persimmon family, also boasting Sharon fruit and Kaki fruit. It is packed with Vitamin A, which helps to strengthen the immune system, aids vision in dim light and helps maintain the health of skin.