Pete Doherty beats Posh to organic nosh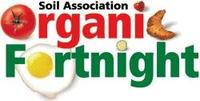 Pete Doherty has come out on top for once, but as the celebrity most in need of an organic breakfast, according to a new poll commissioned by the Soil Association. The poll of 1,000 UK mums on mumsnet.com asked which celebrity most needed to wake up to a hearty organic breakfast and poor old Pete came top of the list with 37% of the vote.
Joint second for a much needed healthy start to the day was LA new kid Victoria Beckham and Radio 1 motormouth Chris Moyles with 17% each. Pete's on-again, off-again girlfriend, Kate Moss, faired a little better with only 6% thinking she needed some foodie tlc but Britney racked up 10% of the vote.
The results come mid-way through Soil Association Organic Fortnight, a UK-wide celebration of all things organic which sees businesses, communities and individuals across Britain coming together to host events and promote organic products.
Soil Association spokesperson and mother of one, Lucy Kane, comments: "You only have to take one look at poor old Pete to see he's not been eating enough of his organic greens! A fresh organic breakfast would give Pete a much needed healthy start to the day. What's more all the vitamins and nutrients found in organic food might even provide him with the extra strength and energy he needs to stay on the straight and narrow!"
Pete is not the only one being encouraged to have an organic feed. The Soil Association is also encouraging the public to feed Gordon Brown an organic breakfast online! The charity has launched an interactive game where you can pop everything from organic Scottish porridge oats to bacon and eggs in the sleepy PM's mouth and watch him wake up to the benefits of a planet-friendly start to the day. The charity will use the final tally of breakfasts fed to Gordon to put pressure on the Government to get behind organic. Visit Soilassociation.org/wakeupgordon to play.
Eating organic benefits both people and planet. People, because organic food contains higher levels of vitamin C, essential minerals, cancer-fighting antioxidants and Omega-3, planet, because organic farming typically uses 30% less energy and supports more wildlife and wild plants than non-organic farming. It also produces fewer greenhouse gases and less dangerous wastes.
The public can show their support for organic by:
- Hosting an organic breakfast during the fortnight for their family, friends, colleagues or community
- Visiting a Soil Association Organic Fortnight event in their area, see: Soilassociation.org/organicfortnight for more information
- 'Sending' Gordon Brown an organic breakfast. See Soilassociation.org/wakeupgordon for details