DIY with a difference at Cedar Place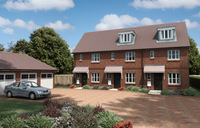 Antler Homes is inviting house buyers to Cedar Place in Sunbury-on-Thames for a spot of DIY during the weekend of 25th and 26th of July. But this is DIY with a difference, because the 'D' in this case stands for design.
Buyers will be given the opportunity to design the final touches to their houses, but Antler's team of expert builders will be doing all the hard work!
The weekend will give prospective buyers a unique opportunity to view the plans for a range of houses within a gated development that is being built in Sunbury-on-Thames. Buyers will get the chance to make their own suggestions and changes, meaning that, wherever planning permissions and building regulations permit, buyers can bespoke their own properties.
Cedar Place will feature a beautiful range of two, three and four bedroom houses, as well as a selection of apartments. Prices for apartments start at £249,950 and the houses start at £480,000. All new properties will be built to the highest standards, with luxury bathrooms and high-spec fitted kitchens featuring the latest appliances.
"The bespoke weekend gives buyers the chance to stamp their own identity on a house that they know will meet the highest specifications," says Tim Foreman, Sales Director of Antler Homes. "It's a perfect opportunity to make the little changes that will turn a luxurious house into a dream home for the buyer. Wherever possible Antler Homes will meet the customer's requests, but the one thing we won't compromise on is our absolute commitment to a high quality build and superior finish."
For further information about bespoking your house in Cedar Place, visit on the weekend of 25th and 26th July. Alternatively, the marketing suite is open from Thursday to Monday between 10am and 5pm, or find out more at antlerhomes.co.uk.