Rooftop living at 661 London Road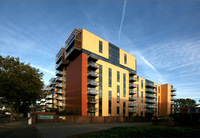 The roof of most buildings is just a necessary part of the overall structure but innovative developers are now seeing their value and are transforming these once desolate spaces into luxury outdoor living areas.
One developer taking this approach is Notting Hill Home Ownership, who is currently marketing the final phase of shared ownership apartments at 661 London Road in Isleworth, which features the unique 'Sky Gardens'.
Rising to ten floors, 661 London Road is a classic residential scheme arranged as two buildings joined by a glass link and is one of the first residential high-rise developments in the area to feature a roof garden.
Stylishly landscaped the rooftop 'Sky Gardens' at 661 London Road makes great use of space and is a place for residents to sit and relax while taking in the remarkable views across London, including both Wembley and Twickenham Stadiums and the Thames Valley. The innovative rooftop is just one example of the unique architecture at the development.
Roof gardens are becoming increasingly desirable in residential schemes as they increase the attractiveness of the development and residents are able to take advantage of the additional outdoor communal facilities, enjoy the chance to lounge and socialise with neighbours and even do a spot of sunbathing in the summer sunshine. They will also benefit from reduced central-heating bills due to the added layers of insulation.
Mark Vaughan, Director of Home Ownership for Notting Hill Housing comments: "Roof gardens are the crowning glory of any urban skyline in the modern city and are what makes city living rise to a higher level. Roof gardens in London are a rare commodity in apartment developments, particularly in shared ownership ones, and we are delighted to be able to offer residents the added value of the landscaped 'Sky Gardens' as a place where they can relax, take in the views and be part of the community."
661 London Road is a collection of stylish contemporary one and two bedroom homes perfect for young professionals seeking to make a move on to the property ladder.
All the homes are light and airy and have been designed to maximise space. One bedroom apartments feature a contemporary bathroom, bedroom with a built in wardrobe, open plan living room with space for a dining area, fully fitted kitchen and the added luxury of a private balcony or terrace providing views of the inner landscaped courtyard or the surrounding area.
Two bedroom apartments feature two double bedrooms, a bathroom, fully fitted kitchen, living and dining room and private balcony. Each apartment incorporates an audio door entry system and some apartments have an allocated parking space.
The development is located in Isleworth close to the centre of Hounslow, providing easy access to the Hounslow high street, offering a range of amenities and leisure facilities. The London Borough of Hounslow covers 23 square miles, from Heathrow Airport in the west to Chiswick in the east and is one of the capital's most diverse boroughs.
It comprises modern housing estates, quiet suburbs, green belt villages like Heston along with the bustling and fashionable cosmopolitan districts such as Chiswick and the neighbouring towns of Twickenham and Richmond. Hounslow is currently undergoing huge regeneration plans with the arrival of a shopping district, The Blenheim Centre, which will transform the town centre with an array of shops, bars, restaurants and a new ASDA supermarket.
Hounslow town centre is ideally positioned in London's international gateway situated only 5.2 miles from Heathrow and benefiting from Hounslow East Underground station on the Piccadilly line and the Isleworth mainline station, which operates the South West trains service to central London Waterloo in 37 minutes.
The apartments at 661 London Road are available to purchase through shared ownership (New Build HomeBuy) and are available to applicants who are living or working in London, with priority going to people who live or work in the London Borough of Hounslow.
For a one-bedroom apartment applicants must be earning at least £21,400 (single applicant) or £24,400 (joint applicants). For a two-bedroom apartment applicants must be earning at least £25,000 (single applicant) or £28,000 (joint applicants). Applicants will also need access to at least £3,000 to cover the cost of buying the home.
Purchasers looking to buy at the development have the opportunity to buy an affordable share of between 25% and 75% of the property's full value and pay a subsidised rent on the remainder, with the option to purchase additional shares later on. Prices, which are at full market value, start at £163,000 for a one-bedroom apartment and £197,000 for a two-bedroom apartment.
For further information, log on to nottinghillhousing.org.uk.