Dubai Sports City to unveil astonishing ambitions at Dubai Property Show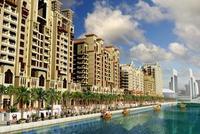 Dubai Sports City in the United Arab Emirates is set to showcase the world's first ever fully-integrated purpose built sports city at the Dubai Property Show at the Novotel London West, Hammersmith on the 20th and 21st January 2007.
The gigantic 50 million square foot City will be approximately twice the size of the City of London (Europe's largest business district)! This mind-blowing concept will offer homebuyers an entirely new lifestyle model, specifically designed to support an outstanding quality of life.
The mouth-watering scheme will incorporate world class sports facilities, four magnificent stadiums, global brand sports academies, leisure facilities, hotels, cinemas, entertainment outlets, internationally renowned schools, healthcare and a sports themed shopping mall to name a few.
As part of this staggering project, Dubai Sports City will be showcasing one of many magnificent residential elements called Canal Residence West, an elegant collection of five buildings comprising studio, one, two and three bedroom penthouse apartments.
These, the schemes only waterfront homes, will boast unrivalled access to the worlds top sporting events and facilities all incorporated within the scheme. The 18-hole Ernie Els signature golf course, world class academies such as Manchester United Soccer School, the David Lloyd Tennis Academy, the International Cricket Council's first ever ICC Global Cricket Academy, the worlds first 'WorldHockey' Academy, a Butch Harmon School of Golf and a world renowned health club will all be on the door step.
As for those other great passions; food, drink and other day-to-day social therapy – Canal Residence West will feature a vibrant waterside promenade where residents will find an exciting and eclectic mix of stylish restaurants and chic cafes to satisfy even the most demanding devotee of cosmopolitan urban living.
U.Balasubramaniam, CEO of Dubai Sports City comments: "Our vision and masterplan for Dubai Sports City will set new lifestyle standards across the world. Sports and leisure facilities will enable people to live life to the full by exercising every positive human emotion. Based on the scientific principle that a healthy life is a happier life, the scheme will cater for every aspect of well-being: physical, mental and emotional."
Private resident facilities will include a state-of-the-art health club, beauty salons, elevated swimming pools and sundecks, children's play areas, communal gardens and barbeque areas, 24 hour security and concierge and dedicated and secure private parking facilities.
Other essential amenities within a stones throw from the front door will include community centres, supermarkets, parks and open spaces.
Every element of human requirement is located either within Canal Residence West or is a short walk away making this a truly sustainable, self-contained development. What's more, if you're not in the mood to walk, or drive for that matter, an Arabian style pleasure boat will transport you down the canal to more sports or leisure venues, further accentuating the therapeutic nature of Canal Residence West.
The buildings at Canal Residence West will be designed in Arabic, Mediterranean, Classic European, Venetian and Spanish Andalusia architectural styles. Each apartment will benefit from balconies and terraces bringing natural light and space into the home and making the most of stunning views across Dubai Sports City.
Dubai Sports City has released apartments in three of the five buildings for sale – the Mediterranean, the Classic European and the Venetian buildings with apartments ranging from 488 sq ft to a sizeable 3,227 sq ft. Prices will start from approx. £55,000 for a studio apartment.