Thailand relocates to the Middle East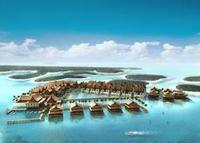 Jasmine Garden is the first fully licensed residential development to be announced on 'The World' in Dubai. Located on the island of 'Thailand', Jasmine Garden is a Thai-themed resort centred around a Spa with a total build budget of 110 million USD.
Dubai must be the bane of every cartographer and TomTom programmer's life. As soon as they think they've got the world mapped out, some ambitious Dubai construction company reclaims a whole heap of land from the sea, fashions a Palm or two, and re-draws the boundaries again. To exacerbate the issue further we will shortly, to quote Blake, be able "to see a world in a grain of sand" (well many billions of grains of sand) as Dubai developer extraordinaire, Nakheel, busily crafts 300 islands in the shape of the world, to create a residential resort called 'The World' in the waters of the Persian Gulf. In ten years' time, when asked for directions in Spain, TomToms will no doubt ask "Is that Spain, Europe, or Spain, Dubai?".
The World, 4km off the shore of Jumeirah, is exciting, innovative and above all exclusive. Measuring only 9km across and 6km high, each of the 300 countries (read 'islands') will range from 23,226m² to 83,613m² in area and be separated from each other by 50 to 100 metres of water. Transport between the islands will be limited to helicopter or boat with plenty of sheltered marinas dotted throughout the archipelago in which to moor.
Thanks to round-the-clock construction, progress on The World is swift, a glance at Google Earth will confirm that, and once reclamation is complete, predicted for 2008, the countries will begin to take shape. Whilst the smaller islands may be bought by individuals for private estates (starting price of approx. 6.85 million USD); Michael Schumacher, Rod Stewart and David Beckham are rumoured to already be owners; the larger islands will be home to dream resorts. Developers have the freedom to decide what they wish to do with their freehold country and they are gradually starting to reveal their masterplans, the first fully licensed project announcement coming in respect of 'Thailand'.
Jasmine Garden on the island of 'Thailand' within The World, is a Thai-themed resort centred around a Spa with a 110 million USD build budget. Adam Godwin, Marketing Manager of Dream Homes WorldWide, promoter of Jasmine Garden, comments, "Jasmine Garden cleverly combines traditional Thai architectural style with 21st century conveniences such as intelligent domestic electrics, direct wireless communication, 24-hour concierge and of course the focal point of the Spa. Purchasers will be able to choose between four bedroom beach villas, stilted water villas, bright loft suites and studio suites, all embracing traditional Thai materials such as teak decking and polished stone floors. Jasmine Garden has all the island escapism of gourmet restaurants, pools, a private beach, marina, resident chef and 2,000m² Spa, with the added comfort of one of the world's most progressive, exciting, forward-thinking nations, Dubai, just 4km away by boat or helicopter. Because of the enormous hype around The World, the five star qualities of Jasmine Garden and the inevitable high rental potential, we don't expect the 131 Jasmine Garden units to be on the market for too long."
The freehold properties all characterized by wide open-plan luxury living start from 327,000 GBP for a studio suite, rising to 1,435,000 GBP for a four bedroom beach villa. Payment terms are extremely favourable with installments spread out right up to expected completion in 2011.
For further information, visit dreamhomesww.com.