The only Sports City in the world makes good business sense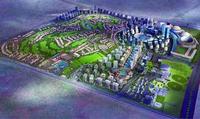 IMOINVEST are now pleased to bring to the market Champions Tower III in Dubai Sports City. This is a first class investment opportunity ideal for the buy to let market in what will be the world's first Sports City and will be host to numerous world events and home too many sporting professionals.
Dubai Sports City is a phenomenal development; it will cover some 50 million square feet and will be home to 4 stadiums and many wide open areas incorporating a variety of sports. The state of the art stadiums will host cricket, football, rugby, athletics, hockey, tennis and many others besides, along with a signature Ernie Els Golf course. The city will also boast world class academies welcoming athletes of all ages and skill levels with the best coaches and programmes available all in one location. Already tipped as the favourite for the 2016 Olympics, the city will offer every convenience and will be self sufficient. With Manchester United already signed up to be the first permanent soccer training school and The International Cricket Council moving its headquarters from London to Sports City this truly will become a 'Mecca' for sports enthusiasts and professionals alike.
Julien Lu Regional Director for IMOINVEST says, "As investment opportunities go this has to rank as one of the best ever. Dubai Sports City will be host to numerous world sporting events attracting untold numbers of regular visitors and will undoubtedly become home to many athletes who will be keen to take advantage of these unparalleled facilities. One must remember that this is a living and working city with excellent schools, shopping centres, health and medical centres along with internationally renowned cuisine and superb nightlife all within its own gated perimeter. At this off plan stage investors will be able to realise high capital appreciation as Dubai Sports City evolves and once completed they will further benefit from potentially one of the best rental markets ever."
Champions Tower III is an impressive and intimate private residence built to a luxury standard. Located in the heart of the city there is a choice of studio, one and two bedroom apartment's to choose from. Each offers spacious accommodation and far reaching views. The development will offer luxury finishing throughout and many amenities including high speed elevators, roof top health club, marble floored lobby area, 24 hour security, underground parking facilities and an in house maintenance team.
Prices start from just £60,620 for a studio apartment offering guaranteed rental yields which are excellent at 8% of the purchase price for the first 3 years of ownership and up to 70% - 80% loan to value developer financing over 5 years.
Investment in Dubai is reaching a never seen before level of excitement. The Dubai property market is setting standards for property development throughout the world and with landmark developments such as Sports City, Dubailand, The World, and The Palm, it will remain the future of overseas real estate investment for years to come.
As as special bonus, IMOINVEST International works with developers in these areas that offer incredible incentives to investors that reserve a property and have invested their initial 30% equity by 2nd February 2007:
Studio or one bedroom apartment – A jaguar X type or £8,500
Two bedroom apartment – A Jaguar S type or £12,000
Penthouse – A Jaguar XJR or £35,000
In addition to this with every apartment purchased you will be entered into a grand prize draw where you can win a private jet!
For more information, visit imoinvest.com.