Gulf countries follow Dubai's lead by developing their coastlines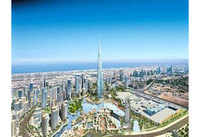 The Persian Gulf has long been associated with groundbreaking architecture that has brought the region into the 21st century. Dubai has become one of the most lucrative property markets in the world and neighbouring Emirates such as Ras Al Khaimah, Ajman and Abu Dhabi, along with Qatar and Kuwait are following suit developing their coastlines to attract foreign investment and tourism. Budding investors will be able to see the dozens of outstanding projects that the region has already under construction, or about to leave the drawing board at the Dubai & Gulf Property Show on the 14-15 July 2007 at the Novotel Hotel in Hammersmith, London.
Mike Bridge, Director of Dubai Shows Ltd, organisers of the Dubai & Gulf Property Show comments, "Since we launched this show in London in 2006, the market especially in Dubai has changed with many projects completed. We now have a very buoyant second hand and off plan property scene, allowing visitors to this exhibition the opportunity to look at both options. According to recent research the Dubai property boom is set to continue until at least 2010 with demand for property continuing to outstrip supply, which has meant a boom for the short term rental market. Its neighbouring Gulf states are following suit developing their tourism sectors which boost the demand for property.
The Persian Gulf has become well known for constantly introducing world class projects in cities that offer unlimited opportunities, strong population growth, high rental returns and new real estate laws designed to protect the investor. We are delighted that so many well known Dubai and Gulf agents and developers will be showing en masse, exclusively under one roof in London for the third time."
The show has doubled in size since last year, featuring Dubai's world famous mega projects as well as those of its neighbouring emirates, in particular Ras Al Khaimah and the capital city of Abu Dhabi which has the highest per capita income in the world. The emirate of Ras Al Khaimah, which is just 45 minutes by road north of Dubai, is taking bold economic initiatives to attract more investors, especially in the real estate and tourism sectors. The emirate has several plans announcing mega hotel projects and new golf courses, not forgetting 'The Cove' project which will have more than 50 acres of beachfront property, including 134 Nubian style furnished residences.
Abu Dhabi has launched several huge projects in the property hot spots of Al Raha Beach and Al Reem Island, and has recently announced that they will be building their own version of the Guggenheim and Louvre museums. Not to be out done Dubai has recently bought the QE2 and have signed deals with Universal Pictures and Marvel to develop mega theme parks in the city. For UK buyers, the emerging short term rental market could be the way to go, enabling you to enjoy a few weeks in the sun while still retaining excellent rental returns.
Not only is the UAE witnessing phenomenal growth in their tourism and real estate sectors, but the demand is stretching further to the Arab countries of Qatar and Kuwait. Qatar has been a base for many expatriate families over the years and has emerged into one of the fastest growing economies in the Gulf region along with Dubai. With surging oil prices, the freehold property law and an open tax free economy, many investors are being attracted to its coastal project known as 'The Pearl', a manmade island consisting of 985 acres of luxury residential and commercial properties.
Mike Bridge adds, "Each time we hold a show in London we showcase something new, at July's show we will be showcasing property in Kuwait. Kuwait has witnessed an influx of foreign residents resulting in a thriving rental real estate sector which has further helped to underpin an already incredibly successful economy. Recently Kuwaiti officials began to realize the potential of the real estate sector if they allowed for foreign freehold ownership, and this led to legislative and constitutional changes creating an incredibly popular and successful property market. It's a fact that many of the expats living in Kuwait are now taking full advantage of their right to own freehold title to real estate."
Dubai's mega projects being showcased at the exhibition include the World (where Rod Stewart has reportedly spent $33 million to buy 'Britain'), the earth's tallest building (Burj Dubai), the domed ski resort, Dubailand, a mega theme park twice the size of Disney World Florida, Mall of Arabia - the worlds biggest shopping mall, Dubai Sports City with it's Ernie Els golf course and Manchester United's soccer academy, the Restless Planet which will house over 150 animatronic dinosaurs and much more. According to the finance director of the Natural History Museum, the Restless Planet 'will have the full stamp of authority of the Museum in London, and will demonstrate that education and science can be fun'.
Lisa O'Brien, Director of First Rate FX, sponsors of the Dubai & Gulf Property Show adds, "With the current strength of the Pound against the US Dollar, thousands of people are buying holiday homes or looking for an investment. Many do not realise that their dream home or investment could actually cost them less if they used an independent foreign exchange provider for the currency transaction. Using a currency specialist such as ourselves rather than a High Street bank to convert and transfer funds could make a difference of up 4 per cent on the exchange rate. Even if you are not looking to buy at the moment, you can still take advantage of the current exchange rate by locking in with a forward contract for up to 24 months ahead. With no commission or transfer fees, you could save thousands of pounds."
The real estate sector in Dubai & the Gulf is outstanding in its diversity. There is an array of projects being built which are without a doubt, the best in the world. Prices compared with other international resorts are still very competitive, with studio apartments starting from as little as £35,000 and villas from only £200,000.
At the Dubai & Gulf Property Show in July, visitors will be able to see for themselves the abundant lifestyle opportunities available, as well as meet the experts with information about living and buying real estate in Dubai & the Gulf. This will be an event that budding property investors cannot afford to miss.
There will be a number of free daily workshops at the show, covering lifestyle, commercial investments and short term rental opportunities presented by a number of experts, plus films on Dubai and all its latest attractions.
The show will be held at the Novotel Hotel, Hammersmith, London which will be open daily from 10.00 -18.00hrs. Entry is free. For further information please visit dubaishows.com.