Dollar crash attracts UK investors to the UAE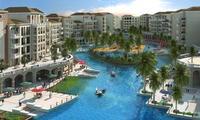 For the first time in 26 years the pound sterling is at its strongest against the United Arab Emirates Dirham (£1=7.4AED) due to it being pegged to the US dollar since 1980.
Developers attending the 3rd Dubai and Gulf Property Show on July 14th-15th expect British investors to flock to the Novotel London West in Hammersmith London, to gain from the pounds strength.
According to currency experts First Rate FX, since April 2006 the AED has increased by 15% resulting in it being at its highest since the 1980's.
Mike Bridge, Director of Dubai Shows Ltd comments, "Apart from the fantastic rate of exchange a lot of Dubai real estate developments are coming in at reasonable prices such as a studio apartment from £35,000. This strength in the pound has been watched closely over the past few weeks by investors and now is the right time to look at investing in the UAE. It really is a fantastic time for British investors as they will be able to see the dozens of outstanding projects from the region that are already to move into, or are under construction."
Martina Rohel, Group Marketing Manager of City of Arabia, one of the key exhibitors at the show notes that, "As the UAE central bank continues to maintain a peg to the US Dollar, UAE property prices are becoming ever more attractive for UK buyers. We have noticed in the past few weeks an increased interest of British investors in our development."
According to recent research the Dubai property boom is set to continue until at least 2010 with demand for property continuing to outstrip supply, resulting in an increase in demand in the short term rental market. Dubai's neighboring Gulf states are following suit developing their tourism sectors to boost the demand for property. The Arabian Gulf has become well known for constantly introducing world class projects in cities that offer unlimited opportunities, strong population growth, high rental returns and new real estate laws designed to protect the investor.
The show has doubled in size since last year, featuring Dubai's world famous mega projects as well as those of its neighboring emirates, in particular Ras Al Khaimah and the capital city of Abu Dhabi which has the highest per capita income in the world.
At the Dubai & Gulf Property Show, visitors will be able to see for themselves the abundant lifestyle opportunities available, as well as meet experts who can give information about living and buying real estate in Dubai & the Gulf.
There will be a number of free daily workshops at the show, covering lifestyle, commercial investments and short term rental opportunities presented by a number of experts, plus films on Dubai and all its latest attractions.
The show is being held on Saturday 14th and Sunday 15th July at the Novotel London West, Hammersmith, doors open daily from 10.00 to 18.00hrs. Admission is free. For further information please visit dubaishows.com.