Gowealthy.com launch Cappadocia at the Jumeirah Village, Dubai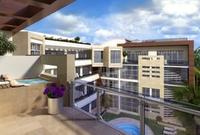 Gowealthy.com, Dubai's global property and lifestyle portal is proud to announce the launch of the Cappadocia development at Jumeirah Village, Dubai which is due for completion in early 2009. Along with its many attractive features, Cappadocia boasts a unique premise in that none of the 67 properties is quite like the other.
"The U.A.E. has an extremely multicultural society with a plethora of individuals who have unique tastes and expectations. The concept of Cappadocia stands out from the mix of existing developments by offering buyers the option of owning a one-of-a kind apartment whether it is a studio with a private garden or three bedroom penthouse with a pool," commented Peter Penhall, Chief Executive, Gowealthy Holdings. "In fact it is quite fitting as the name Cappadocia is taken from ancient Anatolia where the region consisted of a crossroads of several ancient highways which saw many different cultures come into contact."
Cappadocia consists of an array of properties from spacious studios to three bedroom penthouses with swimming pools and terrace gardens. The residential properties located on the ground floor and courtyard boast their own private gardens, all duplex and some select one-bedroom apartments have built-in jacuzzis on the terraces. All properties offer well-defined entrance, living, kitchen, dining, sleeping and utility areas, along with walk-in wardrobes for the larger apartments and private gardens for select dwellings.
The U-shaped formation of the building design encapsulates the scale of the communal areas available for residents use, including the central courtyard and swimming pool terrace on the first floor level. All communal areas are overlooked by the residential apartments, as well as the health club which boasts its own jacuzzi facility.
The spacious balconies, terraces and gardens are integrated into the design. This is considered to be a fundamental need in climatic conditions of Dubai which offers about eight months for outdoor activities. Therefore, these areas offer dining, sunbathing, resting and swimming facilities, all of which can be enjoyed in the privacy of buyer's own homes.
On the decision to locate at the Jumeirah Village, Penhall commented,
"The developers of this project, G&G Partners, picked an excellent location for their flagship project in Dubai as it is situated perfectly between Emirates Road and Al Khail Road. This ensures easy access to all of Dubai's main arteries connecting it to both new and old Dubai."
Cappadocia is Turkish based developer G&G Partners' first foray into the Dubai property market. With a number of architectural achievements across many countries, plans are afoot to expand their presence in the region with additional innovative projects in the pipeline. In collaboration with Gowealthy.com an affordable and flexible finance package has already been developed for prospective investors.
For more information visit gowealthy.com.