Dubai delights according to specialist property company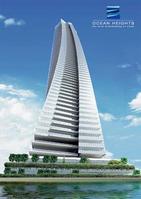 The delights of Dubai have been well documented by real estate professionals in the last twelve months. An important financial capital and the current 'hot spot' of the overseas property market, things are set to get even hotter in the emirate according to specialist property company, The Best In Dubai.
"Purchasing a unit in one of the luxury new residences such as Lago Vista or Ocean Heights can net you up to 18% rental yields per year," says Giulio Giancovich, a senior Dubai consultant at The Best In Dubai. "With up to 51% tax free growth and an expected 15 million tourists by 2010, the buy to let market is a very attractive prospect for property owners."
Dubai offers unparalleled luxury to visitors and is purpose built for pleasure. Rapid expansion is controlled by Government planning, ensuring properties are completed to exacting standards and in a timely fashion.
Properties in desirable locations command high rental yields, making studios and apartments in popular complexes a solid investment opportunity. The annual visitor figure currently stands at five million but is set to swell in the next decade. This growth in visitors is matched by a burgeoning residential population, pegged at 3 million by 2010 according to demographic studies.
For those looking to cash in on the Dubai property boom, The Best In Dubai is currently offering the ultra luxurious, waterfront Ocean Heights development. Situated at the entrance to the marina, these stunning one, two and three bedroom apartments form part of a breathtaking futuristic development designed to cater to every need and desire.
Replete with facilities and amenities, the Ocean Heights development will command premium rental yields as a residential let.
For more information about Dubai and Dubai property, log on to thebestindubai.co.uk.