Dubai Properties' exclusive launch of Al Waha villas at Harrods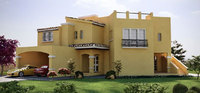 Until the end of August, Dubai Properties, the leading master planner and developer in the Middle East, will be offering a selection of its Al Waha Villas exclusively at Harrods, the most famous department store in the world. Al Waha means oasis, and this development will embody tranquillity within the renowned Dubailand, set to be the largest themed leisure, tourism and residential development in the world.
This unique in-store promotion is a direct result of Dubai Properties' international expansion plans, with the UK market being of primary interest based on the developer's strong existing local ties.
Purchasers need look no further than Harrods' famous shop windows to find the specially situated Dubai Properties sales office, where they can register their interest in Al Waha Villas. Dubai Properties is a brand that stands for the utmost in quality, prestige and exclusivity. Al Waha Villas is exemplary of the company's commitment to providing the very best in residential accommodation in Dubai, the most stylish property hot spot in the world.
Fahad Al Gergawi, Director of International Sales Operations at Dubai Properties comments, "Al Waha Villas represent excellent value for money. Very few places in the world offer this level of quality and space for these prices. Whether a permanent home or simply a holiday retreat, these properties are the perfect base from which to explore and enjoy everything Dubai has to offer."
Just a short drive from the heart of Dubailand, Al Waha Villas is close enough to the action to enjoy family fun days out, but just far enough away to be an oasis of calm and a great place to escape the buzz and excitement of the world's biggest theme park. If downtown Dubai with its mixture of skyscrapers, shopping and sandy beaches is more your scene, Al Waha Villas is just a 15 minute drive away, making it a perfect location for all the family.
Al Waha Villas, set amongst lush landscaped gardens in a secure gated community, offers the prestige and glamour associated with Harrods and the sophisticated Dubai lifestyle. Throughout the Dubai Properties' promotion period at Harrods buyers will be able to purchase a range of two, three and four bedroom villas, built using the finest materials and designed to provide the perfect living space, both inside and out.
Shirley Humphrey, Sales and Marketing Director for Harrods Estates believes the Al Waha Villas are an excellent long-term investment for anyone considering a holiday home in an exotic yet affordable location. She comments, "Dubai Properties are one of the most well-respected and established master planners and developers in Dubai, and a company Harrods are proud to work with. This promotion is the perfect opportunity to purchase a property in Dubai from a company that is setting the standard for luxury residences in what is fast becoming one of the most exclusive destinations in the world. Following the success of the Dubai Properties promotion at Harrods, we will be continuing this exclusive offer at the world famous Ritz Hotel in Paris."
Properties at Al Waha Villas range from 3,658 sqft for a two-bedroom villa, available from £242,547; 7,242 sqft for a three-bedroom villa available from £571,816 and 7,888 sqft for a four bedroom villa, available from £604,336 (prices dependent on exchange rates). All properties include two parking spaces and large balconies and terraces. For more information regarding the exclusive Dubai Properties Harrods promotion, please contact Harrods Estates on Tel: 020 7893 8933 or by visiting harrodsestates.com Alternatively, please visit the promotion at the Harrods store until 31st August.