IMS adds Dubai to non-resident mortgage portfolio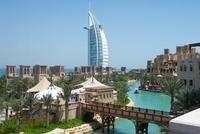 Ever since Sheikh Mohammed declared in May 2002 that foreigners were allowed to purchase property in Dubai, demand for home loans has soared. In fact according to reports in the Khaleej Times, mortgage lending in the United Arab Emirates increased an annual 97% in the second quarter of 2007 as foreigners bought property in the Gulf state. A stratospheric growth rate but undoubtedly from a very low base. In response to this demand, overseas mortgage specialists International Mortgage Solutions (IMS) has added Dubai to its portfolio of countries covered. This product is also being distributed via IMS' process and packaging arm accessible to all UK mortgage brokers.
The Dubai mortgage product offered through IMS does not cover all real estate and is limited to certain reputable developers and developments that will have been approved by the National Bank of Dubai (NBD) but does cover both new and resale properties within these parameters. Mortgage product is available for the key resorts including Nakheel-built Palm Jumeirah where the first residents have already moved in, amongst them a number of high-profile celebrities.
Heather Chambers, Product Development Director for IMS comments, "Given that there are still outstanding issues surrounding ownership status of some developments in Dubai, it should provide clients with an added level of security knowing that a major global bank has reviewed these particular projects and decided they are safe to use as security. Another major bank has also recently launched products in Dubai".
Fortunately for would-be Dubai property owners, the Government is deliberately trying to attract inward investment and therefore there are currently no purchase taxes applied by the Dubai Government but developers and vendors will charge a fee of between 1% and 7% for transfer of ownership. Buyers will also pay around 1.5% of the purchase price to register the property and 0.25% to register the mortgage deed. Other costs to consider include any broker fees, bank fees and valuation costs.
Interest rates are coming in around 2.5% above the current Euro/LIBOR and specific rates are quoted on application.
For further information on which resorts and developments you can now obtain mortgages for in Dubai, visit imsmortgages.com.