Why 'bust' doesn't exist in Dubai, it's 'boom' all the way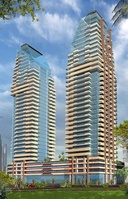 Rising from the dusty desert the Emirate of Dubai has grown from nothing to nothing short of jaw-dropping in a matter of decades. Themed cities, record toppling skyscrapers, iconic hotels and the world's biggest airport are all grabbing the headlines and everything Sheikh Mohammed touches seems to turn to gold. But in a cynical world where there is a tendency to vilify success, there's an almost daily cry of 'Dubai – boom or bust?'. The answer is boom, and here's why.
Dubai is well aware that oil is going to dry up in the next ten to 20 years and as such has successfully diversified its economy into business and tourism and expects the latter to form 20% of the GDP by 2015. Business-wise Sheikh Mohamed has shrewdly created the perfect environment for setting up shop in, or relocating to, the Emirate. Income tax, capital gains tax and corporate tax are all rated at 0% and infrastructure from swift monorails to efficient ports, not to mention a strategic Middle Eastern location, have all contributed to the fact that nine of the worlds' top ten MNCs are now found in Dubai.
As for tourism Dubai expects 15 million visitors a year by 2015 (according to the Dubai Chamber of Commerce and Industry) and there's plenty for them to do now and in the near future. Swoosh down the slopes of Ski Dubai, check into the underwater Hydropolis hotel, graze the largest shopping mall in the world or play 18-holes of Ernie Els golf at Dubai Sports City. Dubai World Central (DWC) is the airport that will welcome them all when open in 2010. On a tract of land the size of Cardiff DWC has six runways where four aircraft can take off and land simultaneously and can receive up to 120 million passengers per annum making it the world's largest passenger and cargo hub.
All in all 100 billion dollars-worth of investment is currently going into projects in Dubai, that's more than the total foreign direct investment into the USA in the whole of 2005. And this is having a massive impact on the economy. Between 1990 and 2003 Dubai's GDP increased by 263% and since 2003 year-on-year GDP growth has averaged between 8 and 10%. But what does this say about the property market?
Stewart Banks, Product Portfolio Executive for Dream Homes WorldWide comments, "The property market is marching on up at a rate of 10 – 15% capital appreciation per annum and rental yields are incredibly high at between 8 – 15% per annum due to the high demand. This is before DWC is built, before Dubai Sports City is complete, so you can imagine how that demand will only reach higher as the vast influx of workers look for accommodation".
Stewart continues, "Additionally two recent pieces of legislation have made foreign purchases much easier and safer. Foreigners can now purchase freehold property within 15 designated zones and in addition escrow accounts, where clients' stage payments are held by an independent third party, must be in place for all off-plan product by the end of 2007. To gain an approved escrow account the developer must have certain items in place such as a license to trade, full building licenses and a contract between themselves and the master developer. This in effect means that the necessary due diligence is done by the authorities on the clients' behalf and makes Dubai possibly the safest city in with world in which to invest. To top it all with the incredible tax incentives it only costs 1.5% of purchase price to buy in Dubai, that's for land registry, there is no VAT or Stamp Duty. Now is an exceptional time to buy in Dubai."
On the Market – Budget
Metropolis Lofts, Jumeirah Village
Metropolis Lofts is a development of studios and one bedroom apartments in the prestigious residential area of Jumeirah Village between Sheikh Zayed and Emirates Roads and ideal for long term rentals. Close enough to all the action yet far enough for some tranquility, Jumeirah Village is a fully fledged community with schools, shops, parks, medical facilities and restaurants yet within easy reach of IMPZ (International Media Production Zone), Knowledge City, Dubai Marina, Dubailand and DWC. Metropolis Lofts itself consists of two striking 29 storey towers with the first two floors accommodating amenities from restaurants and shops to a gymnasium, health Spa and swimming pools. Beautiful sundecks and roof gardens top the towers. The units themselves have fully fitted kitchens and bathrooms and air-conditioning. Ideal for first time buyers or multiple investors.
Prices from £55,165 GBP with 15% payable on contract and a choice of payment plans until completion scheduled for November 2009.
On the Market – Sporting Excellence
Stadium Point, Dubai Sports City
Situated within walking distance of the four stadia and leisure facilities and just minutes from the new Ernie Els 18-hole course, this complex of one and two bedroom apartments is ideally located in this centre of sporting excellence. The properties will include such standard features as central air-conditioning, fitted kitchens and pre-wiring for cable TV and high-speed internet. A swimming pool, bathing deck, gymnasium and sauna/steam room will all be available in the recreational zone at rooftop level. To be sold complete with underground parking, as well as boasting in-house security and caretaking service, these homes have phenomenal short term rental potential.
Dream Homes WorldWide has exclusive marketing rights to the top floor units. Prices start from £142,210 GBP with 40% payable on contract and 60% upon completion scheduled for April 2009.
For more information email enquiry@dreamhomesww.com or visit dreamhomesww.com.