The driving force behind Dubai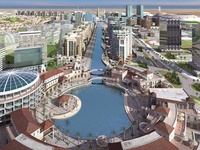 Population, workforce and economic growth have been and continue to be driven by Free Zones and specialised industry cities; these tax free areas with special 'off-shore' status allowing 100% repatriation of all profits have been responsible for bringing scores of reputable companies to Dubai, which is poised to become the most sought after business and holiday locations all rolled into one.
Martin Bowen UK Sales Director of Profile Europe (UK) Ltd says, "There are currently four tax free zones; Jebel Ali, Dubai Airport, Media City and Internet City. Each has seen a whole host of multi national companies join its ranks with names such as Daimler, Boeing, CNN and MasterCard amongst them. By encouraging Free Zones at such an early stage of development Dubai has in fact safe guarded its future by propelling its economy to new heights. With such a vast array of companies now based in Dubai the knock on affect particularly in the property market has been huge. Thousands of employees have required accommodation either by renting or purchasing and this has started both the rental and property sales markets off to a flying start. With an overall growth of 236% in the last decade and now one of the fastest growing economies in the world, Dubai is now the driving force in the Middle East with ambitions on being the world's premier location for both business and pleasure."
Profile Europe (UK) Ltd are now marketing Profile Residences in Dubai Sports City an area that is expected to achieve above average capital growth and offer excellent rental yields. Offering a selection of studios (sold out) one and two bedroom apartments within the cities prestigious 'Westgate' area, these fully furnished apartments benefit from a roof top swimming pool, saunas, gymnasium, games room, underground parking, 24 hour concierge, 24 hour security and is located close to the 65,000 seater Olympic Stadium, retail district and the Dunes Golf Course.
Price start from just £131,900, with completion due in 2009.
For further information, visit profile.ae.