'The Els Club' launched at Dubai Sports City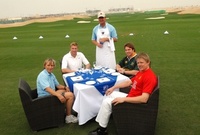 Ernie Els the former British and US Open Golf Champion has officially launched the 'The Els Club' in Dubai Sports City. Alongside a host of celebrities, the world's first 'The Els Club' boasts a 7,538 yard 18 hole championship course and will act as a global base for Ernie's international design business operation.
Ernie Els said, "Today's launch of 'The Els Club' here in Dubai – the first of its kind anywhere in the world – is truly a special moment for all of us who have been involved on this magnificent project since its inception. 'The Els Club' at Dubai Sorts City will be a truly timeless, world class golf experience for players at all levels."
Els has already designed courses in North America, Asia and Africa, however only a select number of developments worldwide will bear 'The Els Club' name, the hallmark of facilities which will benefit substantially from direct and ongoing personal input from Els and his team.
Martin Bowen, UK Sales Director of Mayfair based Profile Europe (UK) Ltd says, "The Els Club, is the first completed venue in Dubai Sports City and this has already had a major impact within Dubai. It is seen as the first part of the jigsaw, that when completed will become the hub for sports stars and fans from around the world. With so many sports being represented through this tailor-made city and training facilities second to none, the world's media attention will be targeted here and that is great news for property investors in Dubai, especially Dubai Sports City, where I expect to see tremendous capital growth. Dubai Sports City will blossom into one of the worlds strongest rental markets."
Profile Europe (UK) Ltd is now marketing Profile Residences in Dubai Sports City, an area that will offer excellent rental yields from two captive markets (residential and tourist). There is a selection of Studios (sold out), one and two bedroom apartments available in the cities prestigious 'Westgate' area, close to the main entrance, the retail district, sports stadia, including the newly upgraded 65,000 seater Olympic Stadium.
The development benefits from a roof top swimming pool, saunas, gymnasium, games room, underground parking, 24 hour concierge, 24 hour security and is in close proximity to the central hub and Dunes Golf Course.
Prices start from just £131,900, with completion due in 2009.
For further information visit profile.ae.