Panoramic views over Dubai Sports City training academies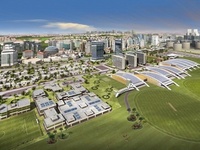 Profile Europe (UK) Ltd is pleased to announce the release of their new development 'Stadium Point' which offers unparalleled panoramic views over Dubai Sports City, training academies.
Martin Bowen UK Sales Director of Profile Europe (UK) Ltd says, "Stadium Point is ideally located within Dubai Sports City and will offer unsurpassed views over the different training academies. The academies will offer both tourists and professional athletes; superb facilities in most disciplines and this whole area will be a hive of activity. Investors into Dubai Sports City will therefore be privy to exceptional rental rewards with both short and long term leases available."
Perfectly positioned opposite the new ICC Cricket stadium and with views on to the 'Els Club' championship golf course, there will be a selection of studios (sold out), one and two bedroom apartment's offering air conditioning, terrace and fitted kitchens. Stadium Point will also offer 24 hour security, communal rooftop swimming pool, sauna, games room, gym, underground parking and garaging.
Martin continues, "When one talks of a first class rental opportunity coupled with potentially superb capital appreciation, one could be forgiven for thinking that Stadium Point is a 'frontline' beach resort, but nothing could be further from the truth as Dubai Sports City is just over an hours drive from the beach. This is why Dubai Sports City is so unique even at this early stage. By creating a 'city' that is unique to sports, combining both training facilities and world class tournaments in most major sports, it has provided a niche market that the world has not seen before. The numbers of tourists visiting Dubai is spiralling year on year, add to this a workforce to cater for this demand, the athletes from around the world and their coaching staff along with the constant demand from sporting tourists and you have a ready to go rental market that in my opinion will be hard to top."
Prices at Stadium Point start from just £125,000 for a 1 bed apartment.
For further information, visit profile.ae.