Ras Al-Khaimah – The new Emirate on the block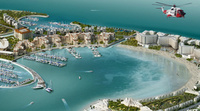 Those who failed to invest in Dubai's 'original' Palm five years ago will understand the phrase "he who hesitates is lost". Properties on Palm Jumeirah have skyrocketed in value, up to 300% apiece, after being sold and resold on average four times each before even being built. What a lucrative boat to have missed. However, there is a second chance, and that chance is Ras Al-Khaimah – or RAK to the locals.
A 45-minute drive from Dubai, this 1,700km² Emirate is more attractive, more verdant, more mountainous and importantly, more affordable than its big brother. Construction materials are sourced locally, more than 75% of the cement produced in the UAE comes from RAK, which keeps property prices reassuringly low, although not for long. As Bebhinn Kelly of the Oxford Business Group said last year, "there seems to be nothing standing in the way of RAK's ambitions to become the next major development story in the Gulf".
Adam Godwin, Marketing Director for Dream Homes WorldWide comments, "RAK is a growing tourist destination as well as a free zone business hub and the property sector is gathering pace. Developments in the area have already seen their prices increasing by 20% annually for the past two years. Those who invest in multi-faceted resorts such as La Hoya Bay Residence will have several options for realising a return on their investment from 'flipping' before completion in the same vein as the Palm to renting to holidaymakers or to Dubai businessmen who prefer to commute to work from tranquil RAK. La Hoya Bay Residence's developer is demonstrating his faith in the market by offering an 8% guaranteed rental income for the first year and capital growth of between 100% and 200% over the next five years is not an unreasonable expectation."
In many ways Ras Al-Khaimah has followed Dubai's blueprint for tourist success. Already under construction is the 231 million USD 'WOW RAK' leisure resort featuring Oasis Aqua Park (including the largest man-made waterfall in the world) and Planet Earth Theme Park as well as a shopping mall and show ground. The Emirate will also have a mountain resort with an artificial ski slope, several 18-hole championship standard golf courses, a Desert Snow Village with both ice and underwater hotels as well as accommodation for 350,000 permanent residents and, the pièce de resistance, a 265 million USD Spaceport to launch tourist spaceplanes, the first of its kind in the world. These attractions should pull in tourists by the plane-load and indeed the floodgates have already opened. According to the RAK Tourism authority the Emirate experienced 40% growth in tourist arrivals in 2007 whilst RAK hotels posted 93% occupancy for the same period. 2.5 million tourists are targeted for 2012, quite a jump from today's base of half a million, but you wouldn't bet against it.
Dream Homes WorldWide is promoting La Hoya Bay Residence, a luxurious project of studio, one and two bedroom apartments on Al Marjan Island, a cluster of five coral-shaped islands enjoying full Government backing. Comprising homes, hotels, sporting facilities and commercial areas, Al Marjan Island is Ras Al-Khaimah's answer to the Palm but with greater environmental awareness. Rather than 'hostile dredging', the developer is using surface fill by natural rock from RAK's mountainous inland, over two million pieces were laid to create essential breakwaters instead of using visually unappealing concrete and this will attract both marine life and coral formation to this part of the Arabian Gulf.
La Hoya Bay Residence itself occupies prime marina-front real estate and residents can enjoy dozens of on-site facilities to include three temperature controlled swimming pools, a health club, Spa, private beaches, tennis club, ten waterfront restaurants, a nightclub, retail outlets and a medical centre. Al Marjan Island's golf course, yacht club and business village will also be within reach. Accessibility is currently via Dubai's International Airport however Ras Al-Khaimah International Airport is rapidly expanding as part of a five year 410 million USD plan and will be receiving many international carriers in the near future.
Prices at La Hoya Bay Residence start from £61,760 GBP for a studio, £96,633 GBP for a one bedroom and £170,774 for a two bedroom apartment. Purchasers can participate for as little as 30% with a 70% finance option available upon completion scheduled for December 2009. Property is available on a freehold basis and tax is a heavenly 0% - no income, capital gains or corporation tax. A rental income of 8% is guaranteed for the first year.
Sheikh Tariq, the Chairman of RAK-based Union Group of Companies summarises perfectly, "You have one to three years to take the best of RAK and this is the most suitable time for investors and for doing business in RAK... I think market entry will be more difficult for those who are waiting. I would advise all investors to look at RAK now and not delay."
For further information, visit dreamhomesww.com.