Dubai world business and education capital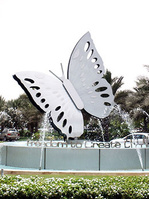 Dubai's efforts to become a world reference for business and knowledge excellence can rarely be matched: The Dubai Technology, E-Commerce and Media Free Zone (TECOM), the visionary project encompassing many free zones in Dubai, is home to literally hundreds of global companies and employees who serve the technology, media and education industries.
Support services operating within these communities include banks, travel agents, beauty salons, supermarkets and gymnasiums, all of which create jobs and assist the thousands of workers located here in their everyday life.
TECOM, consists of: Dubai Internet City; Dubai Media City; Knowledge Village; Dubai Int. Academic City; Int. Media Production Zone; Dubai Outsource Zone; Dubai Studio City; Dubai Biotechnology and Research Park; and Energy Environment Park. Global giants such as Microsoft or Siemens have already taken the leap and set up in the zone. They benefit from 100% foreign ownership; exemption from all import duties; 100% repatriation of capital and profits; freedom from corporate tax (as applied throughout Dubai, with the added bonus of a renewable 15 year guarantee in the free zone); abundant inexpensive energy; and a high level of administrative support from the free zone authorities.
Dubai Media City (DMC)
DMC is the vision of His Highness Shaikh Mohammad bin Rashid Al Maktoum, Vice President and Prime Minister of the UAE and ruler of Dubai, whose aim is to transform the emirate into a knowledge-based society and economy. The free zone provides an adequate infrastructure and environment to enable global media-related enterprises to operate out of Dubai and have the freedom to create. DMC enjoys a world-class environment aimed exclusively at the media industry, to include state-of-the-art production facilities and studios.
Dubai Internet City (DIC)
DIC is located between Dubai Marina and Jumeirah, in an area that is quickly becoming the city's new downtown. Today it is the Middle East's largest IT infrastructure built in a free trading zone, and boasts the most extensive commercial internet protocol telephony system in the world. With a company formation period of 10 to 20 days, the area has quickly grown into a vibrant international community, boasting 400 Information and Communication Technology (ICT) companies and is the workplace of more than 8,500 employees.
Knowledge Village (KV)
Knowledge Village has greatly helped the Middle East to consolidate as a destination of learning excellence. This thriving community of knowledge was established in 2003 as part of a long-term economic strategy to develop the region's talent and accelerate its move into a knowledge-based economy. The unique 1 km long campus is home to over 350 training, professional centres and HR companies from across the world. It is the world's only Free Zone that completely focuses on professional training and support services, including additional facilities such as a gym, sports ground and beautifully serene landscapes.
Continuous development, an excellent infrastructure and tax advantages still make the Dubai property market a favorable investment arena.
Although a large number of properties have been built in past years, demand continues to be high for now: Sana Kapadia, Research Analyst at EFG-Hermes reminds us: "Supply in the residential property market is and will continue to be constrained in 2007. We predict that the peak year for supply will now be 2009, meaning that the market is unlikely to see a price decline before this occurs. Much of the demand comes from people actually seeking property in Dubai and not simply from speculators."
For further information, visit propertyshowrooms.com.