UAE mortgages at a mere 5%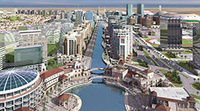 Commercial Bank of Dubai (CBD) challenges all other mortgage providers in the United Arab Emirates with its mortgage loans from 5%, a substantial variation when compared with the lowest general market rate of 7.5%.
Mortgage lending in the UAE is a profitable business, with a total of 23 companies seeing unprecedented profit margins on home loans. AME Info, a leading provider of online business information in and about the Middle East region, reported on Thursday 6th March 2008, the decision taken by the Commercial Bank of Dubai (CBD) to offer mortgages for a stunning 5% interest rate.
According to AME Info, "It needed only one bank to break ranks in the UAE home loan market to bring about a revolution in the local mortgage market and a far better deal for the consumer. That has happened now."
CBD, a well established and rather conservative bank, requires a flawless credit record in order to qualify for a mortgage. The credit assessment includes any other debts the applicant has as well as the size of the deposit on the property. However, AME Info reports that "its requirements are not difficult for senior expatriates."
Thomas Smith, Deputy GM and Head of Retail Banking, told AME Info: "We are a bank so we have our own local depositor base. We pay less out to depositors if interest rates fall and can therefore pass that advantage onto our mortgage holders in lower rates. So if EIBOR falls, as it has recently, so will our mortgage rates."
Smith continues to explain the reality of the UAE real estate market: "What we saw is that the whole property market was developing at enormous speed and that you need something special to stand out. But taking the best mortgage clients is a low-risk and not a high-risk strategy."
In January, EFG Hermes published a study of the blossoming UAE mortgage market, which points to a ten-fold growth from $4.4bn today to $44bn by 2012. In the report, the premier investment bank in the Middle East and North Africa region stated: "Over the next five years we estimate a population increase of 1.4 million people (in Dubai), implying property transactions of $187bn,"
"Assuming that 21 per cent of this is financed (30 per cent of properties mortgaged with an average loan-to-value ratio of 70 per cent) this indicates a market size of $44bn, up from the estimated existing market size of only $4.4bn."
Award-winning property portal, propertyshowrooms.com, registered record investor interest in Dubai in January 2008, increasing 366% in comparison with the 2007 average. Sara Romera, analyst at propertyshowrooms.com, explains: "In the last four weeks we have seen over 2,100 unique visitors view our Dubai pages. This falls in line with the success of Dubai products in our International Property Investment Network, where Eagle Heights, a development in Dubai Sports City, is performing outstandingly well."
Investors seeking mortgage finance for purchasng investment property in the UAE will be enticed by the new lending strategy created buy the Commercial Bank of Dubai, as it can heavily reduce the cost of buying over the life-time of the loan.