Dubai - soon to be hit for 6!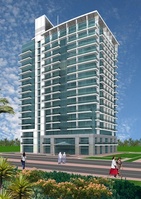 Dubai is about to be hit for 6! This was the welcome news that Dubai received recently when it was confirmed that the new Dubai Cricket Stadium will be ready for action from October 2008.
The new Cricket stadium will be closely followed in December by the Global Cricket Academy (GCA) in conjunction with the International Cricket Council (ICC) which will be another huge boost for Dubai, in particularly Dubai Sports City as it strives to become the World's premier sports destination.
The new Dubai Cricket Stadium will be able to accommodate 25,000 spectators with an adaptability to expand to 30,000. Undoubtedly the most modern cricket stadium ever, its location at the centre of the cricket world is pivotal to this increasingly popular sport. It is envisaged that because of its centrality that not only will it become the hub of cricket internationally, but also it will become a stop of point between continents, whereby most cricket teams will benefit from its superb practice facilities and the added bonus of 'tour' matches. Boasting some 54 practice pitches, there are specially designed wickets to replicate those of Australia, Britain, South Africa and the sub-continent. Specially imported soils and grass from each of the cricket nations is to help replicate the natural playing conditions of each cricketing nation.
Martin Bowen UK Sales Director for Profile Europe (UK) Ltd said, "This is tremendous news for Dubai as it takes another step forward to achieving its overall goal. One must remember that, the facilities here are state of the art and that not all of the10 ICC full-member nations have facilities any where near as good as Dubai. I can therefore see Dubai Sports City being host to countless cricket teams over the coming years and there is also a strong possibility that English county teams may play their off season matches here as well. However, one surprise install for cricketers and spectators alike is the new stadium lighting system. No longer will we see floodlit matches with traditional pylon mountings, instead we are promised a 'ring of fire', a unique lighting system that is a first for any cricket stadium in the world."
For more information, visit profile.ae.