4 theme parks planned for Dubai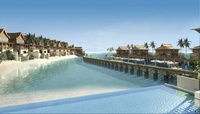 Profile Europe (UK) Ltd is the leading European agent for Dubai property developers Nakheel, having secured to date over £500 million in property sales since 2003. Profile Europe (UK) is now delighted to announce that Nakheel will be building four theme parks including a Sea World in conjunction with US based Busch Entertainment with the first phase due to be completed by 2012.
The four theme parks are; Sea World Dubai, Busch Gardens, Aquatica and Discovery Cove and they will be located on the Palm Jebel Ali where reclamation work is nearing completion. This island will eventually support a population of more than 280,000 people and news of killer whales, dolphins and sea lions as just some of the attractions is creating lots of interest as Dubai gets a step closer to being the ultimate world holiday destination.
Martin Bowen UK Sales Director of Profile Europe (UK) Ltd says, "Confirmation of the construction of four theme parks in Dubai is tremendous news for Dubai and Nakheel and once again confirms Dubai's presence on the world stage as a city of global prominence. Nakheel will also develop commercial, residential and shopping districts along with hotels and restaurants to support the construction of the theme parks. Nakheel already have a long list of partnerships with major brands but this latest undertaking takes them to a new level that will see them recognised as the leading developer within Dubai. Profile Europe (UK) Ltd as Nakheel's leading European agent are therefore delighted to be so closely involved and look forward to bringing exciting new residential properties to the market in the near future."
The theme parks will be constructed in four phases with the first phase set to be completed by 2012.
For more information, visit profile.ae.