'Shop till you drop' in Dubai Sports City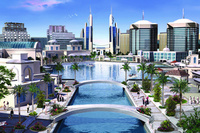 Dubai Sports City (DCS) upon completion, will become the worlds premier sports destination, so one may be excused for wondering why there will also be 1.7 million sq ft of retail space; perhaps with so many sports fans, it seems only logical that may spouses would also like or prefer the opportunity of 'shopping till they drop'!
The World's first integrated sports city is now developing more than 1.7 million sq ft of retail space in three separate locations (Arena Mall, North Point and South Point) within the city, with completion due at the end of 2009. Arena Mall will be the largest hosting over 1.4 million sq ft, offering some 230 units over two floors. Each shopping district will offer a diverse retail mix, providing 'brand' companies, speciality stores and a number of food outlets along with a multi cinema complex and an entertainment zone.
It is estimated that Dubai Sports City alone will be home to 70,000 inhabitants by 2010 and that the Arena Mall's trade area will encompass a population of 800,000 people.
Martin Bowen UK Sales Director of Profile Europe (UK) Ltd said, "This new 'Retail City' is quite an undertaking which will only add to the desirability of Dubai Sports City. Arena Mall particularly, is ideally placed, enjoying close proximity to the cricket stadium and the indoor and outdoor arenas which each hold up to 10,000 people. Footfall for the retail city should therefore be exceptionally high. The importance of accessibility is also of paramount importance and provision has been made to ensure that both residents of DSC and visitors have ample car parking facilities along with dedicated thoroughfares from the surrounding road networks. With water front promenades and an abundance of restaurants and cafes, Retail City will be a haven for businesses and shoppers alike."
Dubai is now recognised as the fastest growing population anywhere in the world. By 2010 there are expected to be up to 5 million residents, but this figure is dwarfed by the anticipated 15 million tourists per annum. Increased Residents and anticipated tourism volumes are paving the way for a superb property market with dramatic gains to be made as the market matures. Many properties still at the off plan stage are estimated to be as much as 50% below market value but with Dubai's popularity growing daily, this figure is expected to shorten quite considerably over the coming years.
For more information, visit profile.ae.