Outstanding location at Bermuda Views, Dubailand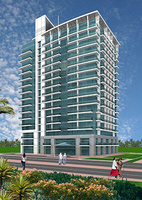 Beautiful one and two bedroom apartments at Bermuda Views form part of the colossal Dubailand sports and lifestyle project. The development sits within Dubailand's equally awe-inspiring Sports City, making these units strong investment options within one of Dubai's most prestigious complexes.
Bermuda Views' location in Sports City already guarantees investors optimum returns, while 3 years guaranteed rental at 8% per annum and valid growth predictions of 30% p.a. make it a particularly lucrative investment.
Residents at Bermuda Views will take advantage of being within the world's very first purpose-built, integrated athletics and sports venue. Units will proudly overlook the prestigious Ernie Els 18-hole championship golf course, the cricket stadium and a seven star hotel. With eventual completion set for 2015, the mammoth Dubailand project is to be key to the success of a substantial proportion of the emirate's economy, not to mention its role in facilitating Dubai's target of a projected 15 million visitors by 2010.
Units comprise luxury, though affordable, one and two bedroom apartments ranging from 960,750 AED (129,610 GBP*) to 1,864,500 AED (251,533 GBP*). An ongoing shortage of property in Dubai, along with the guaranteed rental Bermuda Views offers means the development is set to supply a strong demand while offering investors highly lucrative, tax-free returns. It is interesting to note that while Dubai continues to issue approximately 1,100 residency visas DAILY, the enormous demand levels for prime accommodation in Dubai are unmistakably clear, boding very well for today's investors in Bermuda Views.
According to Bernardo Retana, Director of Investment Product and Development at the International Property Investment Network (IPIN), 'Bermuda Views cannot fail to produce results for investors – I'm convinced that the prestige, sheer opulence and top range of sporting and recreational facilities, all combined with such an important location as Dubailand, will make units at Bermuda Views sell very fast indeed.'
(*exchange calculated on current XE.com values)
For more information, visit propertyshowrooms.com